The Sixers and Thunder have officially finalized a trade agreement that was reached prior to the draft last month, formally announcing today that Al Horford has been sent to Oklahoma City.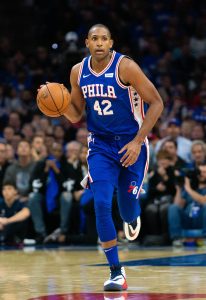 Along with Horford, the Thunder also acquired the draft rights to No. 34 pick Theo Maledon, the draft rights to 2014 second-round pick Vasilije Micic, and the Sixers' 2025 first-round pick (top-six protected).
The 76ers, meanwhile, add veteran shooting guard Danny Green, fourth-year wing Terrance Ferguson, and French big man Vincent Poirier in the swap.
As cap expert Albert Nahmad (Twitter link) and others have explained, the two teams decided to wait until today to finalize the trade because trade restrictions have now lifted on Green and Poirier, who were moved in separate deals last month and couldn't have their salaries aggregated in a second trade until December 8.
Oklahoma City could have completed the trade without aggregating Green's and Poirier's salaries to match Horford's $27.5MM cap hit, but it would have required the team to use its recently-created $27.5MM traded player exception. The Thunder will now be able to hang onto that exception – created in the Steven Adams deal – to use later this season or early in the 2021 offseason.
Poirier wasn't initially reported as being part of the trade, but his inclusion was required for salary-matching purposes, since the Thunder didn't use their TPE. Philadelphia can slide his $2.62MM salary into the $2.66MM trade exception created in last month's Josh Richardson deal, allowing the Sixers to generate a new $8.1MM TPE in today's transaction.
It's not clear whether the Thunder intend to hang onto Horford for the entire 2020/21 season, since the team's primary motive for the deal was acquiring the future first-round pick, Maledon, and Micic. It's possible Oklahoma City will take a similar approach to Horford that it did to Chris Paul a year ago, hoping that he can increase his future trade value with a solid season. For now, his pricey multiyear contract will make him difficult to flip.
As for the Sixers, they saved some short- and long-term money in the deal and added at least one rotation player. Green, who has won titles in each of the last two years, will give the club another solid outside shooter — he has made 40.0% of his career attempts from beyond the arc.
Ferguson, meanwhile, took a step back in 2019/20 but had a promising '18/19 season at age 20 (6.9 PPG with a .366 3PT%) and should compete for minutes on the wing. It's unclear whether or not Poirier is part of the club's plans. He may compete with non-guaranteed players like Ryan Broekhoff and Justin Anderson for the final spot on the regular season roster.
All of the NBA trades agreed upon this offseason have now been officially completed, as our tracker shows.
Photo courtesy of USA Today Sports Images.