The Cavaliers are planning to keep Andre Drummond on the bench as they work on finding a trade destination for the veteran center, according to Adrian Wojnarowsi and Brian Windorst of ESPN. As ESPN's duo explains, Jarrett Allen is considered the Cavs' center of the future and the team believes it's unfair to Drummond to limit his minutes as the transition to Allen takes place.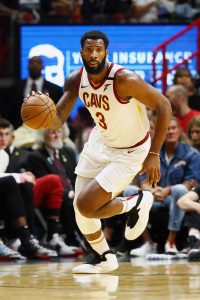 According to Wojnarowski and Windhorst, general manager Koby Altman discussed the decision with Drummond and his agent, Jeff Schwartz of Excel Sports. While Schwartz wouldn't confirm or deny ESPN's report, he offered the following statement:
"Whichever direction this goes, Andre is 27, in his prime, and I believe strongly that he has a great deal to add to a team building toward a postseason run."
Drummond was ruled out of Sunday's game for "rest" purposes, but sources told Shams Charania of The Athletic that the center sat on Sunday in part due to his recent "attitude and play." Charania adds that head coach J.B. Bickerstaff has had multiple sit-down discussions with the 27-year-old, who has been frustrated by the Cavaliers' recent slump.
According to Charania, the Raptors and Cavs are engaging in trade discussions about Drummond. However, a deal could take a while to come together as Toronto and Cleveland navigate through cap-related challenges and the possibility of incorporating other teams, so nothing is imminent.
Wojnarowski tweets that, while Cleveland is gauging the Drummond market, there are no "serious" ongoing talks taking place. Addressing the Raptors possibility specifically, Josh Lewenberg of TSN.ca confirms (via Twitter) that Toronto has interest, but says discussions have only been exploratory and notes that matching Drummond's $28.75MM salary would be difficult.
Other teams, including the Nets and Mavericks, would have interest in Drummond if he's bought out, sources tell The Athletic. It's unclear how many clubs besides Toronto would be interested in pursuing the big man via trade.
Cleveland's obvious preference would be to avoid a buyout, especially since the team remains in the hunt for an Eastern Conference playoff spot and wouldn't want to essentially hand Drummond to a conference rival for nothing, Charania writes. No buyout discussions have taken place to this point, sources tell ESPN.
Meanwhile, Drummond may not be the only Cavs center who is traded prior to the March 25 deadline. Chris Fedor of Cleveland.com reports that the club has received trade offers for all of its centers, though only Drummond and JaVale McGee are considered available — Allen isn't going anywhere.
Photo courtesy of USA Today Sports Images.