Throughout the season, Hoops Rumors takes a closer look at players who will be free agents or could become free agents this off-season. We examine if their stock is rising or falling due to performance and other factors. This week, we take a look at players from the Southeast Division: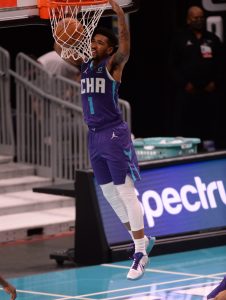 Malik Monk, Hornets, 23, SG (Up) – Signed to a four-year, $15.7MM deal in 2017
Monk has forced his way back into Charlotte's rotation — 36-point explosions will do that for you. Monk's scoring outburst led the Hornets to an overtime victory against Miami on Monday. That was sandwiched by an 18-point game against Milwaukee and a 13-point output against Philadelphia. A 2017 lottery pick, Monk has never shot better than 34.2% from deep in his first three seasons and bottomed out at 28.4% last season. He's made 52.5% of his long-range shots this season. Charlotte would have to extend Monk a $7MM+ qualifying offer to make him a restricted free agent this summer. The Hornets might opt to deal him this winter but Monk will continue to pump up his value if he keeps shooting like this.
Tony Snell, Hawks, 29, SG (Down) – Signed to a four-year, $46MM deal in 2017
Snell had a player option that was much too lucrative to turn down last offseason. When he becomes an unrestricted free agent this summer, he'll be looking at substantially smaller offers that the one he received from Milwaukee in 2017. Snell started regularly for Detroit last season but he hasn't gotten much floor time with Atlanta despite several injuries to wing players. He played a season-high 24 minutes against Utah on Thursday but once De'Andre Hunter and Bogdan Bogdanovic return to action, Snell will reside at the end of the bench once again.
Kendrick Nunn, Heat, 25, SG (Down) – Signed to a three-year, $3.1MM deal in 2018
Nunn was one of the league's feel-good stories last season, an undrafted rookie who graduated from the G League to become a starter with the Heat, then finished second in the Rookie of the Year voting after averaging 15.3 PPG and 3.3 APG in 67 regular-season games. However, he lost his starting job in the Orlando bubble following a bout with COVID-19 and hasn't regained it this season. Nunn was playing regularly when Jimmy Butler battled the virus last month but he has fallen completely out of the rotation the last three games. Avery Bradley's latest injury should allow him to regain his spot. Nunn's qualifying offer is a meager $2.1MM if he doesn't meet the starter criteria, so he'll likely become a restricted free agent. Still, it'll be harder to land a big offer sheet from another club if his playing time continues to wildly fluctuate.
Ish Smith, Wizards, 32, PG (Down) – Signed to a two-year, $12MM deal in 2019
Smith has carved out a nice career as a second-unit sparkplug. He's always been capable of tossing in a 20-point night with his quickness and driving ability. Those outings haven't occurred this season. He's only reached double digits once despite averaging a steady 20.7 MPG. He's still making a positive contributor with his passing – he's averaged 7.0 assists the last five games – but he's 1-for-12 from the field in his last two games despite playing 54 minutes. At 32, Smith will find it increasingly difficult to get offers ahead of younger players. That reality could strike as early as this summer.
Photo courtesy of USA Today Sports Images.