1:03pm: The Roberson signing is official, the Nets announced in a press release.
---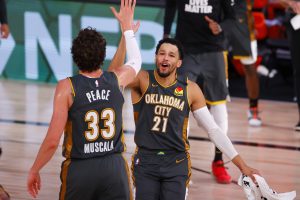 6:16am: The Nets have waived center Norvel Pelle, opening up a spot on their 15-man roster, the team announced in a press release issued early on Tuesday morning.
With that newly-opened roster spot, Brooklyn will sign free agent forward Andre Roberson, who has agreed to a deal with the club, according to Shams Charania of The Athletic (Twitter link). Marc Stein of The New York Times (Twitter link) initially reported that the Nets were "strongly considering" adding Roberson to replace Pelle.
Charania had said on Monday that the Nets mulled the possibility of signing Roberson last month before opting for veteran swingman Iman Shumpert instead. With so many non-guaranteed contracts at the back of their roster – including Pelle's – the Nets ultimately decided to circle back to the former Thunder forward.
Roberson, who is limited on offense but has a reputation as a defensive stopper, returned last August during the NBA's summer restart after having been on the shelf for two-and-a-half years due to knee issues. In his last full season, way back in 2016/17, he averaged 6.6 PPG and 5.1 RPG on .464/.245/.423 shooting and typically guarded opponents' top perimeter threats.
Roberson's defensive ability should be an asset on a Nets team that doesn't lack offensive firepower, with Kevin Durant, James Harden, and Kyrie Irving leading the way. Roberson and Durant were teammates for three years in Oklahoma City.
As Bobby Marks of ESPN tweets, Brooklyn will carry a modest $217,845 cap hit for Pelle's 22-day stint with the club. The big man, who logged limited minutes in just three games for the Nets, will clear waivers on Thursday and will be free to sign with any team, assuming he goes unclaimed.
If Roberson signs a guaranteed contract or is retained beyond the salary guarantee deadline of February 24, he'll have a full-season cap hit of $998,978, the prorated portion of the veteran's minimum, per Marks. Once the signing is official, the Nets will once again have a full 15-man roster, though they could make additional adjustments before next Wednesday's salary guarantee deadline.
Photo courtesy of USA Today Sports Images.