After several reports and rumors tying him to the club, Pau Gasol has officially confirmed that he'll reunite with Barcelona, returning to the team with which he started his professional basketball career.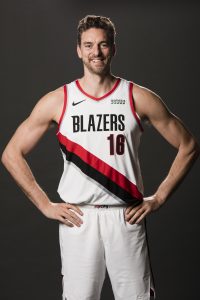 "I'm very happy to announce that I'm coming home and that I'll soon join the ranks of Barça's basketball team," Gasol said in a statement. "… I'm happy to return to the club where I began, and I'm excited about this new opportunity: I hope to contribute to the first team very soon."
Multiple reports way back in July 2020 indicated that Gasol would be signing with Barcelona, but those reports were shot down quickly at the time as the 40-year-old continued to work his way back from the foot issues that ended his last NBA stint.
Over the weekend, reports of Gasol joining his old team once again surfaced, and the veteran center once again issued a denial that any deal was done. However, this time around, it seems as though there was an agreement in place and he simply wanted to announce it on his own terms.
Gasol last appeared in an NBA game in March 2019, when he briefly played for the Bucks. Since then, he has undergone multiple surgeries to repair stress fractures in the navicular bone in his left foot, but never gave up his hope of making a comeback. The Spaniard had talked repeatedly about wanting to play for either the Lakers in the NBA or Barcelona in his home country, and has expressed his desire to represent Spain in the Olympics one last time in Tokyo.
Gasol's deal with Barcelona represents the next step in his comeback efforts, but based on his announcement, it sounds like he won't be playing key minutes for one of Spain's top clubs right away. Within his statement, Gasol talks about lending his "skills and experience" to the team while "making progress in my physical condition and getting into the rhythm of competition."
The third overall pick in the 2001 draft, Gasol began his NBA career with Memphis after playing for Barcelona from 1998-2001. He ultimately spent 18 seasons in the NBA for the Grizzlies, Lakers, Bulls, Spurs, and Bucks, averaging an impressive 17.0 PPG, 9.2 RPG, 3.2 APG, and 1.6 BPG in 1,226 regular season games. He's a six-time All-Star who won a pair of championships with the Lakers in 2009 and 2010, as well as three Olympics medals (two silvers and a bronze) for Spain.
Photo courtesy of USA Today Sports Images.