Players on two-way contracts are free to appear in NBA games, but there are limitations on the amount of time they can spend with their respective NBA teams. Even in 2020/21, with those restrictions loosened a little, each two-way player can only appear in 50 of his team's 72 games, assuming he signed before the season began.
[RELATED: Hoops Rumors Glossary: Two-Way Contracts]
While 50 games should be more than enough for most teams to get through the season without maxing out the eligibility of their two-way players, some have emerged as regular rotation pieces for their respective clubs and are likely to reach the 50-game mark before season's end, barring an injury.
In order to remove those restrictions, a team has to promote a two-way player to its 15-man roster, either converting him to a rest-of-season, minimum-salary contract or negotiating a new multiyear deal.
While it's a little early in the 2020/21 season to determine which two-way players will ultimately end up being promoted to 15-man rosters, a handful of players on two-way deals have made strong cases for standard contracts in the early going.
Here are some of the top candidates to receive promotions among this year's two-way players:
---
Jordan McLaughlin (Timberwolves)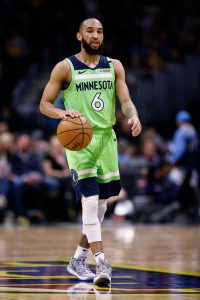 McLaughlin spent the 2019/20 season on a two-way contract with the Timberwolves and played well enough to earn a standard deal in the offseason, having averaged 7.6 points, 4.2 assists, and 1.1 steals per game with a .489/.382/.667 shooting line in 30 contests (19.7 MPG).
A restricted free agent, McLaughlin reportedly received a multiyear contract offer from Minnesota, but it would've been a team-friendly deal that included multiple non-guaranteed years. The 24-year-old opted to bet on himself instead, playing another year on a two-way contract and hoping for a better opportunity when he returns to the free agent market in the summer of 2021.
We'll have to wait to see whether or not that was the right call, but so far it doesn't look like last season was a fluke. With D'Angelo Russell, Ricky Rubio, and Anthony Edwards in the picture, there are fewer backcourt minutes to go around, but McLaughlin has played well in a limited role, with 5.5 PPG, 4.1 APG, and .455/.375/.800 shooting in 17.2 MPG (11 games).
Garrison Mathews (Wizards)
Like McLaughlin, Mathews was on a two-way contract last season and played well, but ended up having to take another two-way deal. He's once again proving that he deserves consideration for a promotion, with 8.9 PPG and 1.4 SPG on .429/.405/.889 shooting through 10 games (19.7 MPG).
Unfortunately for Mathews, the Wizards currently have a full 15-man roster made up of mostly non-expendable players. If the team cuts recent signee Alex Len at some point or makes a trades that opens up a roster spot, that could create an opportunity for Mathews.
Yuta Watanabe (Raptors)
Invited to training camp on an Exhibit 10 contract alongside other NBA veterans like Henry Ellenson and Alize Johnson in the fall, Watanabe played his way onto the 17-man regular season roster, with the Raptors converting his non-guaranteed camp deal into a two-way contract at the end of the preseason.
Since then, Watanabe who spent the last two years on a two-way deal with the Grizzlies, has gradually been making a case for more playing time. His box-score numbers (3.9 PPG and 3.4 RPG) are modest, but he's been hot from three-point range so far, knocking down 12-of-25 attempts (48.0%) and is providing energy and defensive itensity off the bench.
In Toronto's last five games, Watanabe has been one of the team's most-used bench players, logging 18.8 minutes per game and bumping his averages to 8.0 PPG and 5.0 RPG.
Since releasing Len, the Raptors have been holding an open spot on their 15-man roster. If that spot doesn't get filled in a trade at some point in the coming weeks, Watanabe looks like the best bet to fill it before the end of the season.
Others to watch:
Photo courtesy of USA Today Sports Images.