On Thursday, we checked in on the state of the NBA's Most Valuable Player race. Today, with the second half now in full swing, we're taking a look at where things stand with the rest of the league's awards for 2020/21, starting with one that looks like a runaway…
---
Rookie of the Year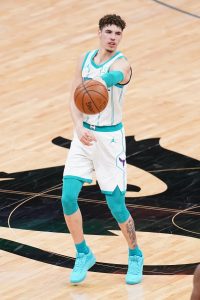 Since LaMelo Ball entered the Hornets' starting lineup at the start of February, he has averaged 19.8 PPG, 6.8 APG, and 6.1 RPG on .456/.437/.846 shooting in 16 games (33.7 MPG).
Kings guard Tyrese Haliburton has had a good year, and No. 1 pick Anthony Edwards (Timberwolves) is among the dark-horse candidates to make a second-half push for this award, but as long as Ball stays healthy and doesn't experience a major slump, it's hard to see how he'll lose this race.
Defensive Player of the Year
The Jazz have the NBA's best record and have a two-time Defensive Player of the Year anchoring their defense, which makes Rudy Gobert the leading candidate for this award for the time being. If Utah holds onto the Western Conference's top seed, voters may be inclined to give Gobert the nod at DPOY to make up for the fact that he and Donovan Mitchell are unlikely to get many top-three votes for the MVP award.
Still, there are plenty of other viable candidates here. Sixers stars Joel Embiid and Ben Simmons will be in the running. Last year's winner, Bucks forward Giannis Antetokounmpo, could receive consideration again. And it's a safe bet that Myles Turner's eye-popping block numbers (3.4 BPG so far) will help earn the Pacers center some votes.
Sixth Man of the Year
Like Gobert, Jordan Clarkson has the Jazz's league-best record working in his favor. He has also been the NBA's top bench scorer so far this season, with 17.9 points per game on .447/.370/.967 shooting, making him the favorite for Sixth Man of the Year honors.
Rockets guard Eric Gordon is right behind Clarkson in scoring (17.8 PPG), but has missed some time with injuries this season and has started nearly half his games. Raptors big man Chris Boucher, Bulls forward Thaddeus Young, and Heat guard Goran Dragic could gain traction, but right now it looks like Clarkson's award to lose.
Most Improved Player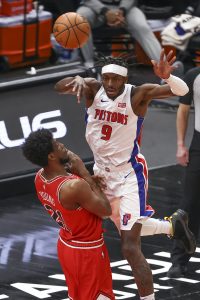 Rockets center Christian Wood looked like the frontrunner for this award until he was sidelined by the ankle injury that has cost him the last 14 games. Now, Jerami Grant, the player the Pistons essentially signed in place of Wood, may be the favorite — he has nearly doubled his scoring average this season, from 12.0 PPG to 23.7 PPG.
A few Eastern All-Stars – Knicks forward Julius Randle, Bulls guard Zach LaVine, and Celtics wing Jaylen Brown – could make strong cases for this award, as could Boucher, Thunder guard Shai Gilgeous-Alexander, and multiple Spurs youngsters. If Randle or LaVine helps his team lock up a playoff spot, it'd make a compelling case, but Grant's ability to rack up big numbers on a rebuilding Detroit squad may give him the leg up.
Coach of the Year
The Coach of the Year award often comes down to which team overcame the most obstacles and/or most significantly outperformed their preseason expectations. Based on those criteria, Doc Rivers (Sixers), Tom Thibodeau (Knicks), and James Borrego (Hornets) may be the best candidates in the East so far, while Quin Snyder (Jazz), Monty Williams (Suns), and Terry Stotts (Trail Blazers) deserve consideration in the West.
I don't get a sense that there's an overwhelming favorite for this award yet, so the second-half results will be crucial. If a team like the Spurs, Bulls, or Grizzlies has a strong second half, candidates like Gregg Popovich, Billy Donovan, and Taylor Jenkins could make plenty of voters' ballots.
---
What do you think? Who would be your award-winners for 2020/21 so far, and who do you expect will ultimately take home the hardware? Which awards are the easiest and most difficult to pick a winner for at this point?
Head to the comment section below to share your thoughts!
Photos courtesy of USA Today Sports Images.