Throughout the season, Hoops Rumors takes a closer look at players who will be free agents or could become free agents this off-season. We examine if their stock is rising or falling due to performance and other factors. This week, we take a look at players from the Southeast Division: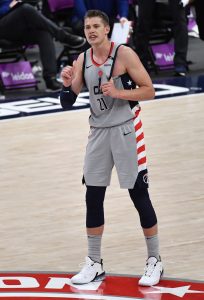 Moritz Wagner, Wizards, 23, PF/C (Down) – Signed to a three-year, $5.99MM deal in 2018
Wagner's younger brother Franz is pursuing a national championship with Michigan and could be a lottery pick this summer. Moe Wagner, who played in the national championship game with the Wolverines in 2018, is currently biding his time on the Wizards' bench.
Despite the season-ending injury to starting center Thomas Bryant, Wagner has fallen behind Alex Len and Robin Lopez in Scott Brooks' rotation and hasn't gotten his number called in the last four games. Washington declined its fourth-year option on Wagner in December, so he'll be an unrestricted free agent this summer. A first-round pick by the Lakers in 2018, Wagner can only hope he'll get a fresh start after seeing his career stall in Washington.
Kris Dunn, Hawks, 27, PG/SG (Down) – Signed to a two-year, $10MM deal in 2020
Dunn left Chicago and signed a two-year deal with the anticipation that he'd be a second-unit mainstay in Atlanta. Hawks fans are still waiting to see Dunn take the court. He underwent right ankle surgery in late December and has yet to make his team debut, though he has returned to practice. For a team intent on making the postseason, the Hawks may not have the luxury of waiting for Dunn to get into a rhythm. Thus, there's no guarantee he'll be in the rotation when he suits up. Dunn likely agreed to a $5MM player option with the aim of playing well enough to test the market again this summer. It's a safe bet now he'll exercise that option.
Duncan Robinson, Heat, 26, SF (Up) – Signed to a three-year, $3.1MM deal in 2018
Robinson's name has been linked to some trade rumors, but whether or not Miami retains him, he'll be making way more money next season. Robinson is expected to command an offer in the $15-$20MM range annually as a restricted free agent. That's the value of a wing who can consistently knock down 3-pointers. Robinson established himself as a big-time shooter when he made 44.6% of his 3s last season in his second NBA campaign. That percentage is down to 38.9% this season but he's still receiving around 30 MPG as a starter in coach Erik Spoelstra's rotation.
Devonte' Graham, Hornets, 26, PG/SG (Down) – Signed to a three-year, $4MM deal in 2018
It's been a rough season for Graham after his breakout sophomore campaign in which he averaged 18.2 PPG and 7.5 APG. He's dealt with some injuries, including a sore knee, and now he's lost his starting job to rookie phenom LaMelo Ball.
The less he plays, the more time he spends hanging around the 3-point line rather than attacking the rim. With Ball leading the pack for the Rookie of the Year award, there's speculation that Graham – a restricted free agent after the season — is available in trade talks. If Charlotte doesn't deal Graham, it will have to decide how much it's willing to pony up to retain him if he receives an offer sheet.
Photo courtesy of USA Today Sports Images