The Hawks have dismissed head coach Lloyd Pierce, sources tell Adrian Wojnarowski of ESPN (Twitter link). The club has put out a press release officially confirming the decision to relieve Pierce of his duties.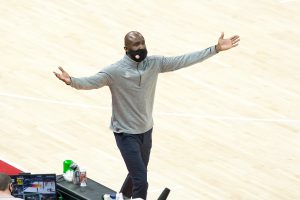 "We would like to thank Lloyd for his work and commitment to not only the Hawks organization but the city of Atlanta. He and his wife, Melissa, are tremendous people who have made a positive impact throughout the city," general manager Travis Schlenk said in a statement. "We have high expectations for our team on the court and we believe by making this change now that we can have a strong second half of the season."
Pierce, who previously served as an assistant coach in Cleveland, Golden State, Memphis, and Philadelphia, was hired as the Hawks' head coach by Schlenk in 2018. Pierce led the team to a 63-120 (.344) record in two-and-a-half seasons, with no playoff appearances.
The Hawks' sub-.500 records in Pierce's first couple seasons were to be expected, since the organization was still in rebuilding mode. However, there were increased expectations in Atlanta in 2020/21 — the club badly wants to make the postseason this spring following a major spending spree in free agency. The Hawks are just 14-20 after getting off to a 10-9 start, and have coughed up a number of fourth-quarter leads.
It's worth noting that Atlanta has been hit hard so far in '20/21 by the injury bug, with all of the team's major free agent additions – Bogdan Bogdanovic, Danilo Gallinari, Rajon Rondo, Kris Dunn – missing at least a dozen games due to health issues. Dunn has yet to suit up at all for his new team, while up-and-coming youngster De'Andre Hunter has been out since January. However, it seems the Hawks' decision-makers weren't willing to attribute the club's inconsistent and underwhelming play in the first half to those absences.
According to Wojnarowski (via Twitter), the Hawks are hoping that lead assistant Nate McMillan will take over as their interim head coach.
McMillan is certainly the most logical candidate to assume the reins on an interim basis — his résumé includes lengthy head coaching stints for the Pacers, Trail Blazers, and SuperSonics, and he ranks 22nd on the NBA's all-time list with 661 wins as a head coach. However, McMillan – who is meeting with Pierce and the rest of Atlanta's coaching staff this afternoon – has been "fiercely loyal in his support of Pierce," Woj notes.
[UPDATE: Nate McMillan Agrees To Be Hawks' Interim Head Coach]
Pierce, who is set to be part of Gregg Popovich's Team USA coaching staff at this year's Olympics in Tokyo, is the second NBA head coach to be dismissed during the 2020/21 season, joining former Timberwolves coach Ryan Saunders.
Photo courtesy of USA Today Sports Images.