6:50pm: It's official, according to a team press release.
---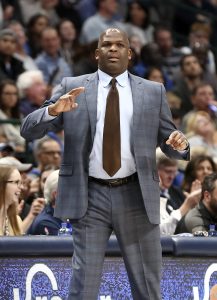 6:17pm: Nate McMillan has agreed to coach the Hawks on an interim basis, ESPN's Adrian Wojnarowski tweets.
McMillan, who was the team's associate head coach, was initially reluctant to replace close friend Lloyd Pierce. Pierce's support to take the job swayed him, Wojnarowski reports in another tweet. Pierce was dismissed on Monday afternoon after coaching Atlanta for two-and-a-half seasons.
McMillan has a 661-588 (.529) record in 16 seasons as head coach with Seattle, Portland and Indiana.
McMillan coached the Hawks for a couple of games in February while Pierce attended the birth of his second child. He was hired as Pierce's top assistant in November, just over two months after he was let go by the Pacers.
McMillan, 56, guided the Pacers to a 183-136 (.574) record over the last four seasons, earning four consecutive playoff berths during that stretch. However, Indiana was swept in the first round in three of the last four years. He initially planned to take this season off but had a change of heart after several teams pursued him with assistant jobs.