MARCH 25: The Kings have announced that their trade to acquire Wright is now official.
---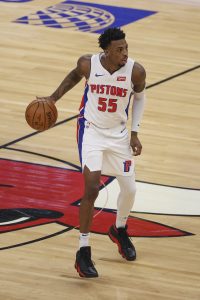 MARCH 24: The Pistons will send guard Delon Wright to the Kings in exchange for guard Cory Joseph and a pair of second-round picks, ESPN's Adrian Wojnarowski reports. The second-rounders in the deal are this year's selection from the Lakers and Sacramento's choice in 2024.
Wright, 28, was traded to Detroit in November. He took over as the Pistons' starting point guard after an early-season injury to Killian Hayes and is averaging 10.5 points, 4.6 rebounds and 5.1 assists in 35 games. Wright is under contract for one more year at $8.5MM before becoming an unrestricted free agent in 2022. The Kings will be his fifth team in the last three seasons.
In Sacramento, Wright will join a backcourt rotation headed by De'Aaron Fox and Tyrese Haliburton. As Bobby Marks of ESPN explains (via Twitter), the Kings had hoped to improve their depth during the coming offseason, so the acquisition of Wright gives them a jump-start on that process. They'll also create a modest $3.6MM trade exception in the deal.
Joseph, 29, was in his second season with Sacramento. He's averaging 6.7 points, 2.2 rebounds and 2.4 assists in 43 games, mostly as a reserve. Joseph is set to earn $12.6MM in 2021/22, but the contract is only partially guaranteed ($2.4MM) until August 1, so the Pistons may opt to waive him before next season to save some money.
"All I'll say is that I really, really enjoy coaching Cory, and his spirit, his professionalism has been great to coach and great for this group," Sacramento coach Luke Walton said. "He is a pleasure to coach and I'll leave it at that" (Twitter link from Jason Anderson of The Sacramento Bee).
The pair of second-round picks headed the Pistons' way look  like the prime motivator for the club to complete the deal. Detroit had traded away several of its own second-rounders, including three of them in last November's deal for Saddiq Bey, so this helps restock the team's stash of picks to some extent. The Pistons now own three second-rounders in 2021 — while they've traded away their own pick, they'll control the Lakers' selection, as well as Charlotte's and Toronto's.
Photo courtesy of USA Today Sports Images.