The Designated Veteran Extension, as we explain our glossary entry on the subject, is a relatively new addition to the NBA's Collective Bargaining Agreement. It allows players with 7-9 years of experience, who would normally qualify for a maximum starting salary of 30% of the cap, to qualify for a "super-max" contract that starts at 35% of the cap, a level normally reserved players with 10+ years of experience.
A player who has seven or eight years of NBA service with one or two years left on his contract becomes eligible for a Designated Veteran Extension if he meets the required performance criteria and hasn't been traded since his first four years in the league. A Designated Veteran contract can also be signed by a player who is technically a free agent if he has eight or nine years of service and meets the required criteria.
The performance criteria is as follows (only one of the following must be true):
The player was named to an All-NBA team and/or was named the NBA Defensive Player of the Year in the most recent season, or in two of the last three seasons.
The player was named the NBA MVP in any of the three most recent seasons.
Technically, players like Gary Harris and Evan Fournier meet the criteria related to years of service with one team and could theoretically become eligible to sign a super-max extension this year, but they're obviously not viable candidates to make an All-NBA team in 2021.
There are, however, a few players who are more realistic candidates to qualify for a super-max veteran contract based on their All-NBA candidacy. Let's dive in and examine a few of those cases…
---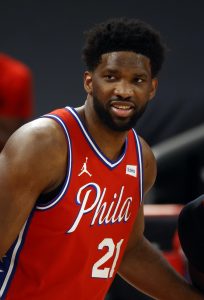 When Embiid first signed his five-year, maximum-salary contract with the Sixers back in 2017, he had appeared in just 31 games over the course of his first three NBA seasons, making the investment a risky one. The deal included some injury protection for Philadelphia, giving the team the ability to waive Embiid without fully guaranteeing the salaries in later years of the deal if one of the injuries he experienced early in his career became a recurring issue.
The idea of the Sixers waiving Embiid seems absurd now. While the former third overall pick hasn't exactly been an iron man since the start of the 2017/18 season, there are no longer any concerns about his career being derailed by health issues before it could really get off the ground.
Embiid will have seven years of NBA service under his belt at the end of the 2020/21 campaign and if he earns a spot on an All-NBA team, he'd have done so twice in the last three years, having made the Second Team in 2019.
For now, he looks like an awfully safe All-NBA bet — his 30.0 PPG, 11.3 RPG, .519/.415/.858 shooting line, and solid defense have made him a legit MVP candidate. Health is always the wild card for Embiid, but as long as he stays on the court for most of the second half, an All-NBA spot should be a lock. That would make the big man eligible to sign a super-max extension with the Sixers this offseason.
Embiid remains under contract through 2023, with a $31.6MM salary in '21/22 and a $33.6MM figure for '22/23. A super-max extension would tack on four years to those two seasons and would start at 35% of the '23/24 cap.
It's too early to know exactly where the cap will end up in 2023/24, but if we use a conservative estimate and assume it will rise by 3% annually in each of the next three summers, that would result in a four-year total of up to $187MM on a new Embiid deal that runs through 2027. It will be fascinating to see how eager the 76ers would be to put that extension – which would cover Embiid's age-29 to age-32 seasons – on the table.
---
Like Embiid, Jokic has played like an MVP candidate and is a lock for an All-NBA spot, barring an injury or another unexpected development. Jokic, who was the All-NBA Second Team center in 2020, is making a case for a First Team spot this season, averaging 26.7 PPG, 10.9 RPG, and 8.5 APG on .564/.421/.879 shooting through 33 games for the Nuggets.
Unlike Embiid, however, Jokic will only have six years of NBA experience at the end of the 2020/21 season. That means that even though he can technically gain super-max eligibility by earning an All-NBA nod for the second straight season, Jokic wouldn't officially be able to sign a new extension with Denver until 2022, once he has his seven years of service.
This is the same situation Giannis Antetokounmpo found himself in last year — he gained super-max eligibility following the 2018/19 season based on his multiple All-NBA spots and his MVP award, but wasn't able to actually sign that super-max contract until the 2020 offseason, once he had seven years of service. The Bucks, of course, planned all along to offer him the super-max as soon as they could, and it's probably safe to assume the Nuggets will do the same for Jokic.
Jokic's current contract is virtually identical to Embiid's, with matching $31.6MM and $33.6MM cap hits for the next two seasons after '20/21. Because Jokic wouldn't be able to sign a super-max until 2022 though, he could get a five-year extension at that point — if we once again assume annual 3% cap increases, that deal could be worth up to an eye-popping $242MM.
---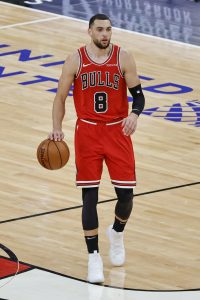 While Embiid and Jokic have clear paths to All-NBA spots in 2021, LaVine is a longer shot to get there. The Bulls guard is having the best year of his career and currently ranks sixth in the NBA with 28.7 points per game, but he's not a strong defender and Chicago's place in the standings is unlikely to do him any favors with All-NBA voters.
Stephen Curry, Damian Lillard, Luka Doncic, and James Harden look like the top contenders to fill the guard spots on the first two teams, which means LaVine would be competing with stars like Bradley Beal, Kyrie Irving, Devin Booker, Donovan Mitchell, Ben Simmons, and Jaylen Brown, among others, for a Third Team spot.
LaVine's current deal pays him well below the max, at just $19.5MM annually, so earning an All-NBA spot would make him eligible for a massive raise. If we once again count on annual 3% salary cap increases, a super-max extension for LaVine would could be worth up to $235MM over five years, starting in 2022/23.
Even if he beats the odds and earns an All-NBA spot, LaVine seems unlikely to receive that sort of offer from the Bulls, who traded Jimmy Butler to Minnesota when his super-max eligibility loomed a few years ago. But the super-max wrinkle would further complicate LaVine's contract situation, which should be very interesting to monitor even if he falls short of an All-NBA team.
Because he's earning just $19.5MM next season, LaVine would typically only be eligible for a four-year, $104.8MM veteran extension — the Bulls would almost certainly put that offer on the table, but LaVine would probably pass, since he'd be eligible for a far higher salary as a free agent in 2022.
It's worth considering, however, that Chicago projects to have a significant chunk of cap room available during the 2021 offseason, giving the team the option of renegotiating the final year of LaVine's contract to give him a raise and a more lucrative extension. That may be the most likely outcome for the first-time All-Star, who is a super-max long shot but is still likely to command more than the $26MM annual salary the Bulls can offer without a renegotiation.
---
To be clear, Doncic will not be eligible for a starting salary worth 35% of the salary cap on his next contract. But the Mavericks star is being mentioned here because he'll likely become eligible for a lesser form of the "super-max" contract.
When a former first-round pick is entering the fourth and final year of his rookie contract, he's eligible to sign a rookie scale extension that starts at 25% of the cap. But if that player has met the super-max performance criteria listed at the top of this story (based on MVP, DPOY, or All-NBA honors), his rookie scale extension can instead start at 30% of the cap.
Most of the time, a player who signs a rookie scale extension that can start at 30% of the cap does so conditionally — for instance, Jayson Tatum was on the 2019/20 All-NBA Third Team, then signed a rookie scale extension prior to the '20/21 season. Because his extension will go into effect next season, Tatum still has to earn an All-NBA spot again this season to meet the super-max criteria (an All-NBA spot in the most recent season, or in two of the past three seasons) and to qualify for that 30% starting salary.
Doncic, on the other hand, has a chance to pull off a rare feat. Because he was named to the All-NBA First Team in just his second season, he'll become eligible for a 30% starting salary if he earns All-NBA honors again this year, in his third season. It wouldn't matter whether or not he's an All-NBA player again in 2022, because he would have already met the necessary benchmark — two All-NBA berths in three years.
Assuming Doncic earns an All-NBA spot this season, which looks like a safe bet, he'd be eligible to sign a five-year rookie scale extension worth a projected $201.5MM, which would begin during the 2022/23 season.
Like Tatum, Donovan Mitchell, Bam Adebayo, and De'Aaron Fox all signed rookie scale extensions in 2020 that will increase in value if they meet certain performance criteria, so they're worth keeping an eye on this season too.
Photos courtesy of USA Today Sports Images.