Longtime Cavaliers center Anderson Varejão is returning to the franchise for the rest of the 2020/21 season, tweets Shams Charania of The Athletic.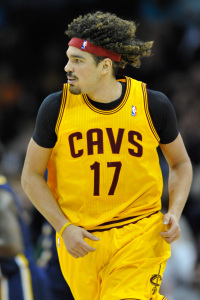 Selected with the No. 30 pick in 2004 out of Brazil, Varejão proved to be a crucial two-way force on several LeBron James-fronted Cleveland clubs. Varejão's tenure in Cleveland reached its personal peak when he made a 2009/10 All-Defensive Second Team. The veteran would be plagued by injuries that would cause him to miss more than half of his games during four of the next five seasons.
All told, the Brazilian big man logged nearly 12 full seasons with the team, in addition to spending parts of two years with the Warriors. Varejão last suited up in the NBA for 14 games with Golden State during the team's eventful 2016/17 season. He holds career league averages of 7.3 PPG, 7.2 RPG, 0.9 SPG and 0.6 BPG.
Varejão most recently served stints in 2018 and 2019 with Brazilian club Flamengo.
The 38-year-old vet could see spot minutes behind starting center Jarrett Allen and his primary backup Isaiah Hartenstein, on a rebuilding Cleveland roster with its eye on the lottery. At 21-41, the Cavaliers are the No. 13 seed in the East, seven games behind the tenth-seeded Wizards for a shot at the NBA's play-in tournament. Bringing back a fan favorite now will be a fun wrinkle as the team embraces its fate and prepares for the 2021 draft.
Given their plans to re-sign Mfiondu Kabengele, the Cavs won't technically have an open spot on their 15-man roster to sign Varejão, but the club is hoping to receive approval for a hardship exception to add a 16th man, according to Chris Fedor of Cleveland.com, who refers to Varejão's anticipated deal as a "celebratory contract." It may end up being a 10-day pact rather than a rest-of-season contract, depending on when it's completed, Fedor adds.
Photo courtesy of USA Today Sports Images.