Throughout the season, Hoops Rumors takes a closer look at players who will be free agents or could become free agents this off-season. We examine if their stock is rising or falling due to performance and other factors. This week, we take a look at players from the Atlantic Division: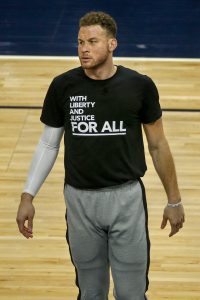 Blake Griffin, Nets, 32, PF (Down) – Signed to a one-year, $1.23MM deal in 2021
Well, Griffin proved he could still dunk after agreeing to a buyout with the Pistons and joining the Eastern Conference favorite. He's also proven that he's a shadow of the All-Star performer who carried Detroit into the playoffs just two years ago. Other than a 17-point outing against his former team and drawing some charges, Griffin has made a minimal impact with Brooklyn. He went scoreless in 41 minutes of floor time against the Lakers and Timberwolves this week before getting rested on the second game of a back-to-back. Griffin might go from a max player to a veteran's minimum backup as soon as this offseason.
Dwight Howard, Sixers, 35, C (Down) – Signed to a one-year, $2.56MM deal in 2020
Speaking of former perennial All-Stars playing on a veteran's minimum contract, Howard has managed to stay healthy again after playing just nine games for Washington two seasons ago. Howard helped the Lakers win last season's title but his production has dropped as a second-unit center in Philadelphia. His turnovers are up and his field goal percentage is down, though he does lead the league in one category – most technical fouls. Howard has nearly as many turnovers (12) as shot attempts (16) in the last six games. Perhaps Howard will get another minimum contract to stay in the league but it appears the end is near for an NBA career that began in 2004.
Reggie Bullock, Knicks, 30, SF/SG (Up) – Signed to a two-year, $8.2MM deal in 2020
While the playing time of the Knicks' younger players has fluctuated quite a bit under Tom Thibodeau, Bullock has been a steady presence in the starting lineup. He's the quintessential 3-and-D player, spacing the floor offensively and providing hard-nosed defense at the other end. Bullock is attempting 8.1 field goals per game, with 5.6 of them beyond the arc. He's made 39.9% of his long-range attempts, connecting with incredible consistency. He drained 40% in both January and February, 40.5% in March and 43.1% this month. He'll be in demand when he hits unrestricted free agency this summer.
Gary Trent Jr., Raptors, 22, SG/SF, (Up) – Signed to a three-year, $3.92MM deal in 2018
The Raptors traded away Norman Powell to the Trail Blazers in part because they weren't sure they could re-sign him in unrestricted free agency. Trent, one of the two players they acquired for Powell, will be a restricted free agent this summer. While Toronto can match any offer, the team may have a dilemma if another suitor makes a big offer to the young sharpshooter. He's averaging 17.4 PPG in 11 games with the Raptors, including a 44-point eruption against Cleveland on Saturday when he missed just two of 19 field-goal attempts. He tossed in a clunker against Atlanta on Tuesday but no doubt, Trent is hitting restricted free agency at a very good time.
Photo courtesy of USA Today Sports Images.