Throughout the season, Hoops Rumors takes a closer look at players who will be free agents or could become free agents this off-season. We examine if their stock is rising or falling due to performance and other factors. This week, we take a look at players from the Central Division: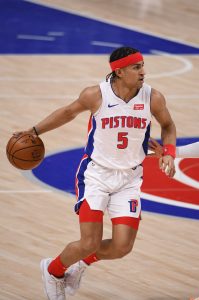 Frank Jackson, Pistons, 22, SG/PG (Up) – Signed to a one-year, two-way ($449K) deal in 2020
An early second-round pick in 2017, Jackson was a rotation player with the Pelicans for two seasons after missing his first year with a foot injury. New Orleans let him walk in the offseason and the Thunder cut him in training camp, but Jackson has revived his career on a two-way contract with the Pistons.
Rather than playing the point, Jackson has thrived in an off-the-ball role under Dwane Casey. He has scored 14 or more points in six of the last eight games, including a go-ahead basket in the final minute against Cleveland on Monday.
It seems a good bet that Jackson, who has dramatically improved his 3-point shooting, will receive a qualifying offer from Detroit's front office and become a restricted free agent this summer.
Denzel Valentine, Bulls, 27, SF/SG (Down) – Signed to a one-year, $4.64MM deal in 2020
Valentine is one of those low-turnover, glue guys that coaches feel comfortable putting on the floor but who doesn't dent the stat sheet. He has been in Billy Donovan's rotation most of the season but his shooting numbers remain subpar (38.4% overall, 33.0% from deep). Valentine signed his qualifying offer to stay in Chicago after an unspectacular 2019/20 season. He'll be an unrestricted free agent this summer and will likely be looking at offers below the QO he inked in the fall. Chicago's late lottery pick in 2016 might benefit from a change of scenery.
Doug McDermott, Pacers, 29, SF/PF (Up) – Signed to a three-year, $22MM deal in 2018
Dougie McBuckets is one of the cooler nicknames in the league and for much of the season, he's lived up to it. Currently dealing with an ankle sprain, McDermott is averaging a career-high 12.9 PPG and 3.6 RPG. He's been more than just a long-range gunner, as 56% of his shot attempts have come from inside the arc. A career 40.7% shooter from deep, McDermott has been a solid rotation player for Indiana since the club signed him to a three-year deal three years ago. He'll return to unrestricted free agency this summer and could be looking at similar offers.
Bryn Forbes, Bucks, 27, SG, (Up) – Signed to a two-year, $4.79MM deal in 2020
Forbes started the past two seasons in San Antonio but he's probably best suited in his current role as a second-unit scorer with Milwaukee. Forbes is averaging 9.6 PPG in 19.3 MPG while making a career-best 43.7% of his 3-point attempts. He'll have an interesting decision this summer, as he holds a $2.45MM option on his contract for next season. If Forbes remains in the rotation and performs well in the postseason, the undrafted guard out of Michigan State will position himself to nix that option in order to pursue multiyear offers.
Photo courtesy of USA Today Sports Images.