APRIL 8: The Heat have officially signed Dedmon, the team announced in a press release.
---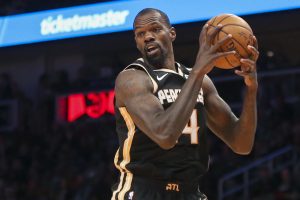 APRIL 6: The Heat intend to add veteran free agent center Dewayne Dedmon to their roster, according to Barry Jackson and Anthony Chiang of the Miami Herald.
After Miami missed out on eventual Nets additions Blake Griffin and LaMarcus Aldridge and new Laker Andre Drummond on the buyout market, Dedmon is an interesting consolation prize. The big man has not appeared in an NBA game since his last pre-bubble bout with the Hawks on March 11, 2020.
One dimension that makes Dedmon a unique catch is that he boasts a solid career 33.3% (155 for 466) on long-range looks. Dedmon can thus help replace some of the frontcourt floor-spreading the club lost when it dealt power forward/center Kelly Olynyk to the Rockets in a trade deadline deal for shooting guard Victor Oladipo. The 31-year-old out of USC will also provide some athleticism that could make him a nice defensive fit for the reigning Eastern Conference champs.
Dedmon was sent by the Hawks to the Pistons in exchange for wing Tony Snell and shooting guard Khyri Thomas in November, and subsequently released by Detroit on November 24.
The Heat will be the seventh NBA franchise for the well-traveled seven-footer across eight seasons. Last season, Dedmon appeared in 44 games between the Kings and Hawks (including 18 starts), averaging 5.8 PPG, 5.7 RPG and 0.9 BPG in just 17.6 MPG. He has also suited up for the Magic, Spurs, Sixers and Warriors.
Ira Winderman of the South Florida Sun Sentinel adds that the Heat's agreement with Dedmon is expected to be a full-season deal, not a 10-day contract. Dedmon must clear the league's COVID-19 protocols and undergo a team physical before a deal is official. Miami has to add a 14th man to its roster by Thursday.
Jackson and Chiang note that the Heat could remain just under the NBA's luxury tax if they add a 15th player further into the 2020/21 season.
Photo courtesy of USA Today Sports Images.