When Kevin O'Connor of The Ringer shared his early All-NBA picks this week, he rightly pointed out that limiting the field to 15 players will leave a number of worthy candidates on the outside looking in. O'Connor had to exclude worthy contenders such as Devin Booker, Zion Williamson, Jaylen Brown, Ben Simmons, Jimmy Butler, Russell Westbrook, Trae Young, Jrue Holiday, and Kyrie Irving from his three All-NBA teams.
Among the other players left off the top 15 by O'Connor were Donovan Mitchell, Zach LaVine, Bam Adebayo, and De'Aaron Fox. Those players are especially notable because an All-NBA spot this season would either substantially increase the value of the contract extensions they signed last offseason or would put them in line for a significantly more lucrative extension this summer.
Jayson Tatum, who earned a spot on O'Connor's All-NBA Third Team, is in the same boat. Like Mitchell, Adebayo, and Fox, he signed a rookie scale extension that includes Rose Rule language, which could bump his starting salary from 25% of the cap to 30% of the cap.
Here are how those players, who signed five-year, maximum-salary contract extensions last offseason, will be affected by whether or not they earn All-NBA honors. These are projected values based on a 3% salary cap increase.
| Player | No All-NBA | All-NBA |
| --- | --- | --- |
| Donovan Mitchell | $163,000,590 | $195,600,710 |
| Jayson Tatum | $163,000,590 | $195,600,710 |
| Bam Adebayo | $163,000,590 | $185,820,675 (First Team only) |
| De'Aaron Fox | $163,000,590 | $169,522,180 (Third Team) * |
* Fox's deal would be worth $182,560,660 if he makes the All-NBA Second Team and $195,600,710 if he makes the First Team.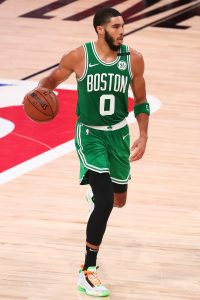 Fox probably has no chance at making an All-NBA team, given the competition at guard and the Kings' spot in the standings. The other three players here have better cases, but Adebayo is likely a long shot, making Mitchell and Tatum the most realistic candidates. They'd only need to sneak onto the Third Team to increase the projected value of their new five-year deals by more than $32MM.
As O'Connor writes, Tatum has a clearer path to an All-NBA spot than Mitchell based on his position. The guard spot is absolutely stacked this season — Mitchell would have to beat out at least one of Luka Doncic, Stephen Curry, Damian Lillard, Chris Paul, Bradley Beal, and James Harden, as well as all the guards mentioned at the top of this story. As good as he's been, he may be left out.
---
While Tatum, Mitchell, Adebayo, and Fox have already negotiated "super-max" language into their contracts and are now trying to guarantee a salary increase by earning All-NBA honors, a handful of players will become eligible for a higher maximum salary on a new extension if they make an All-NBA team this year. An All-NBA spot would either make them eligible for a Rose Rule extension or a Designated Veteran Extension.
Here are those players, along with the projected contract extension they'd become eligible for with an All-NBA nod. These projections are on the conservative side, since they're based on annual salary cap increases of just 3%.
| Player | Max extension with All-NBA spot | Year it would begin |
| --- | --- | --- |
| Nikola Jokic | Five years, $242,098,25 | 2023/24 * |
| Joel Embiid | Four years, $187,000,032 | 2023/24 |
| Zach LaVine | Five years, $235,046,855 | 2022/23 |
| Luka Doncic | Five years, $201,468,730 | 2022/23 |
* Jokic would have to wait until the 2022 offseason to sign a super-max extension. The others could sign extensions during the 2021 offseason.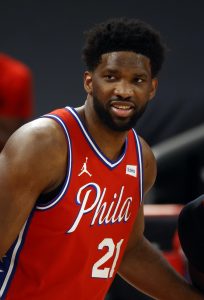 Embiid is still under contract for two more years beyond 2020/21, which is why he'd only be able to tack on four new years to his current deal instead of five. Jokic is in a similar spot, but because he'll only have six years of NBA service at the end of this season, he'd have to wait until 2022 to officially sign an extension, at which point he'd be eligible for five new years instead of just four.
Doncic's potential extension has the lowest average value of any of these hypothetical deals because he'd only be eligible for a starting salary worth 30% of the cap, instead of 35%, due to his limited years of NBA service.
MVP candidates Jokic, Embiid, and Doncic all look like pretty safe bets to make an All-NBA team this spring, and I imagine the Nuggets, Sixers, and Mavericks will be ready to put super-max extension offers on the table for their respective stars as soon as they're eligible to sign them.
As for LaVine, he likely won't make an All-NBA team, which may be a relief for the Bulls — deciding whether or not to offer LaVine a standard maximum contract could be a difficult decision in its own right. If he were eligible for a super-max, that would make negotiations even more challenging.
Assuming LaVine doesn't earn All-NBA honors, he'd only be eligible for a four-year, $104.83MM extension this offseason. However, the Bulls could go higher than that if they renegotiate his 2021/22 salary using their cap room, or if they wait until the 2022 offseason — as a free agent, LaVine would be eligible for a five-year contract worth up to $201.47MM (projection based on 3% annual cap increases) if he re-signs with Chicago, even without All-NBA honors.
Photos courtesy of USA Today Sports Images.