All-Star Knicks forward Julius Randle has been named the Most Improved Player of the 2020/21 NBA season, the league announced in a press release.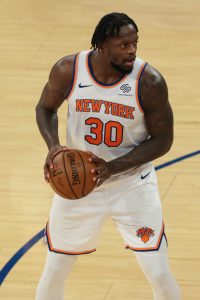 Randle was listed as one of three finalists for the award last week, along with Nuggets forward Michael Porter Jr. and Porter's former teammate, current Pistons forward Jerami Grant.
Randle received 98 of 100 possible first-place votes from polled reporters and journalists, while Grant netted the other two. Rockets center Christian Wood and Bulls guard Zach LaVine rounded out the top five vote-getters.
JD Shaw of Hoops Rumors supplies the full voting results here (Twitter link).
Randle, who was drafted with the seventh pick out of Kentucky in 2014 by the Lakers, posted impressive numbers with Los Angeles and later the Pelicans, but has secured a true home while blossoming into an All-NBA talent under the bright lights of Madison Square Garden.
Across 71 of a possible 72 games, the 26-year-old averaged 24.1 PPG, 10.2 RPG, and 6.0 APG, all career-bests, while leading New York to its first playoff berth in eight seasons. The 6'8″ forward also posted a slash line of .456/.411/.811 during the 2020/21 regular season.
Thanks to the improvement of Randle and RJ Barrett and the game-planning expertise of new head coach Tom Thibodeau, the Knicks didn't just make the postseason under Randle's leadership — they also nabbed the No. 4 seed in the East with a 41-31 record, clinching home court advantage in the ongoing first round of the playoffs.
Randle, who inked a three-year, $63MM deal with the Knicks in the summer of 2019, will be eligible for a veteran extension this summer, ahead of the non-guaranteed final year of his deal. If Randle and the Knicks agree to a maximum four-year extension, such a deal could carry a $106MM+ base value, with added incentives.
Pelicans forward Brandon Ingram won the award last year.
Photo courtesy of USA Today Sports Images.