10:35pm: The Blazers have issued a press release confirming they're hiring Billups as their new head coach.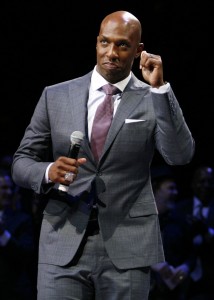 "Chauncey is a proven leader with an elite basketball IQ that has won everywhere he has been," Olshey said in a statement. "He is prepared for the challenge of developing the championship habits and strategic approach we need to achieve the expectations and goals for our franchise."
---
9:51pm: The Trail Blazers and Chauncey Billups have reached an agreement that will make the former NBA point guard the new head coach in Portland, reports ESPN's Adrian Wojnarowski. The team parted ways with former head coach Terry Stotts earlier in June.
It'll be a five-year deal for Billups. The contract features four guaranteed seasons and a team option on the fifth year, per Wojnarowski, who adds that the new head coach will be officially introduced on Tuesday.
Blazers owner Jody Allen and president of basketball operations Neil Olshey met with finalists Billups, Mike D'Antoni, and Becky Hammon in Seattle this week. After their meeting with Billups, the Blazers' franchise leaders were convinced he was the right candidate for the job, sources tell ESPN.
Portland is moving forward with Billups despite facing some criticism over the choice due to a 1997 sexual assault case involving the former All-Star. No criminal charges were brought against Billups, who was a rookie at the time, and the case was ultimately settled in civil court.
The Blazers looked into that incident before formally offering the job to Billups on Friday, and he encouraged the examination, says Wojnarowski. Billups' answers in conversations with team officials aligned with findings from an independent investigation, and the Blazers didn't learn anything they felt disqualified Billups from being offered the position, Woj adds.
Billups has no previous head coaching experience, but was considered a future head coach or GM during his days as a player based on his leadership and his heady approach to the game. Since retiring in 2014, he has worked as a broadcaster and – in 2020/21 – as an assistant coach on Tyronn Lue's Clippers staff.
The Blazers intend to be aggressive about filling out Billups' staff with experienced coaches to help ensure a smooth transition, says Wojnarowski.
Billups will be tasked with elevating a team that has stalled out in the postseason in recent years. He'll also play a major role in making sure franchise player Damian Lillard remains happy in Portland. A report from Chris Haynes of Yahoo Sports on Sunday suggested that the Blazers' roster shortcomings and the backlash to the coaching search have created some uncertainty about Lillard's commitment to the organization.
However, Lillard has long expressed his desire to remain in Portland long-term and he remains under contract for four more years. He also publicly endorsed Billups early in the club's coaching search. While it's still possible he could ask for a trade, the Blazers will do all they can to address Lillard's potential discontent.
The Celtics (Ime Udoka), Pacers (Rick Carlisle), Mavericks (Jason Kidd), and Blazers have now completed coaching searches this month. The Wizards, Magic, and Pelicans remain on the lookout for new head coaches.