10:05am: Leonard has been diagnosed with a right knee sprain and will be out for Game 5, the Clippers announced this morning. There's no timetable for Kawhi's return, the team added.
---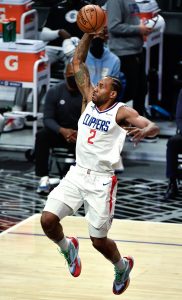 8:13am: The Clippers may be without one of their two All-NBA forwards on Wednesday night, according to Brian Windhorst and Ramona Shelburne of ESPN, who report (via Twitter) that Kawhi Leonard is expected to miss Game 5 vs. the Jazz due to a right knee injury.
Leonard suffered that knee injury in the fourth quarter of Game 4, coming down awkwardly after a drive to the basket and grimacing in apparent pain. He told reporters after the game that he would be "good" going forward.
It seems that may not be the case after all, however. Windhorst tweets that Leonard told teammates on Tuesday night to prepare for him to potentially miss Wednesday's game. According to Windhorst and Shelburne, Kawhi's status for the rest of the series beyond Game 5 remains up in the air as well.
We shouldn't assume Leonard is out for tonight's game until we get official confirmation — after the Nets ruled out James Harden on Monday for Game 5 of their series, he ended up playing 46 minutes on Tuesday. It's possible that Kawhi, like Harden, will end up receiving medical clearance to give it a try. For the time being though, that doesn't seem likely.
If Leonard is unavailable, Paul George would shoulder the brunt of the offensive load for the Clippers, who won consecutive games at home to tie up the series. The Jazz, playing without Mike Conley and with a banged-up Donovan Mitchell, appeared to have lost the momentum in Games 3 and 4, but facing a Kawhi-less team in Utah on Wednesday would put them back in the driver's seat to advance to the Western Finals.
Leonard, who was named to the All-NBA First Team on Tuesday, has been one of the league's top performers in the postseason as well. After averaging 32.1 PPG on .612/.425/.898 shooting in the Clippers' first-round win over Dallas, he has put up 27.3 PPG on .506/.333/.846 shooting in four games vs. the Jazz.