The Mavericks and longtime president of basketball operations Donnie Nelson have agreed to part ways, according to Shams Charania of The Athletic (Twitter link). The club issued a press release confirming the news.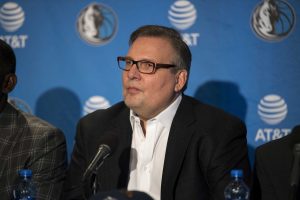 Nelson, who was originally hired by the Mavs in 1998, was promoted to the role of GM/president in 2005 and had been one of the NBA's longest-tenured lead basketball operations executives. Following Danny Ainge's exit from his role with the Celtics two weeks ago, only Pat Riley and Gregg Popovich had held the positions of president of basketball operations with their respective teams longer than Nelson.
"I just want to thank Donnie for his 24 years of service to this organization," Mavs owner Mark Cuban said in a statement. "Donnie has been instrumental to our success and helped bring a championship to Dallas. His hard work, creativity, and vision made him a pioneer. Donnie will always be a part of the Mavs family and I wish him all the best."
Since Nelson ascended to the top of the Mavericks' basketball operations department in 2005, the club has earned playoff berths in all but four seasons, making the NBA Finals twice and winning a title in 2011. While Cuban is more involved in roster and personnel decisions than most team owners, Nelson played a part in all of the team's major moves over the last decade-and-a-half, including the trade up for Luka Doncic in the 2018 draft.
The Mavericks' front office shakeup occurs just two days after a fascinating report from The Athletic suggested that Haralabos Voulgaris, Dallas' director of quantitative research and development, had essentially become the team's co-GM, earning an outsized influence in the basketball operations department.
The Athletic's report stated that Voulgaris had either initiated or approved virtually every one of the Mavs' roster moves within the last two years, and that his influence has been virtually on par with Nelson's.
Cuban called the report "total bulls–t" and told ESPN's Jordan Schultz (Twitter link) that he listens to everyone in the front office, adding, "The whole idea that there is a shadow GM is ridiculous."
However, multiple sources close to the situation were cited in The Athletic's story, and Nelson's departure from the franchise strongly suggests there was some truth to it. The decision for Nelson to leave the Mavericks was actually made on Sunday, a day before The Athletic's report was published, tweets Tim MacMahon of ESPN.
With Nelson out and Voulgaris' future with the franchise uncertain, per The Athletic, the Mavericks have hired a search firm as they begin to seek a new head of basketball operations, league sources tell Marc Stein of The New York Times (Twitter link).