JUNE 28, 3:38pm: The Mavericks have issued a pair of press releases officially announcing Kidd as the team's new head coach and Harrison as the new general manager.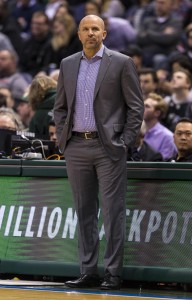 ---
JUNE 25, 12:29pm: The Mavericks have agreed to terms on contracts with Kidd and Harrison, reports MacMahon (Twitter link). Kidd will be Dallas' new head coach, while Harrison will be the general manager and run the team's basketball operations department.
Kidd will sign a four-year deal, per Chris Haynes of Yahoo Sports (Twitter link).
---
JUNE 25, 5:53am: The Mavericks are in the process of finalizing a deal with Lakers assistant Jason Kidd that will make him the new head coach in Dallas, according to a report from ESPN's Adrian Wojnarowski and Tim MacMahon.
Sources tell ESPN that Kidd has begun the "early stages" of assembling a coaching staff in preparation for taking the Mavs' job.
Reports on Thursday indicated that Kidd had emerged as the frontrunner for the Mavs' coaching vacancy and had begun contract negotiations with the team as it also prepared to fill an opening in its front office.
Longtime Nike executive Nico Harrison, who has strong connections with players throughout the NBA – including Luka Doncic – as a result of his two decades at Nike, is expected to be a hired to a top basketball operations position and the hope is that current VP of basketball operations Michael Finley will remain with the team and work alongside him, per Wojnarowski and MacMahon. The plan is for the duo to take over responsibilities previously held by Donnie Nelson, who left the Mavs earlier this month.
Even before officially joining the franchise, Harrison – who is also close to Kidd – has had in-depth conversations with team owner Mark Cuban about head coaching candidates, according to ESPN. While assistant coach Jamahl Mosley and others were considered, those discussions led to Cuban and Harrison identifying Kidd as their top target. Finley and special advisor Dirk Nowitzki have also lobbied for their former teammate.
Kidd has two stints as a head coach under his belt, having led the Nets for a single season in 2013/14, then the Bucks from 2014-18. He had a combined regular season record of 183-190 (.491) during his four-and-a-half years as a head coach in Brooklyn and Milwaukee, with a playoff mark of 9-15 (.375), including a lone series win in 2014.
As a player, Kidd was a member of the Mavericks from 1994-96 and again from 2008-12, helping lead the organization to a championship in 2011. Rick Carlisle, who coached Kidd during the point guard's second stint in Dallas, gave him an unsolicited endorsement for the job on Thursday, telling MacMahon that he believed it would be a great situation for both Kidd and Doncic.
Kidd's exit from the Mavs in free agency in 2012 was a little messy – he changed his mind and went to New York after originally planning to re-sign in Dallas – his relationship with Cuban and the team has since been smoothed over, Woj and MacMahon say.
Assuming there are no last-minute snags in negotiations between Kidd and the Mavericks, Dallas will become the third team to hire a new head coach this offseason, joining the Pacers (Carlisle) and the Celtics (Ime Udoka). Searches are ongoing for the Magic, Pelicans, Trail Blazers, and Wizards. Those teams will have to remove Kidd from their list of candidates if he was under consideration — we know he at least interviewed with Orlando.