3:50pm: The Mavericks have confirmed Carlisle's departure in a press release (Twitter link).
---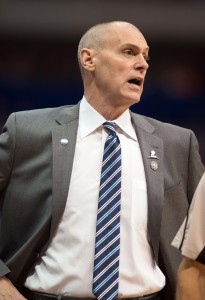 3:10pm: Mavericks head coach Rick Carlisle is stepping down from his post after 13 years in Dallas, tweets Adrian Wojnarowski of ESPN. He had two years left on his current deal with the club.
Carlisle's crowning achievement in Dallas was leading the club to its only NBA title in 2011 with superstar power forward Dirk Nowitzki.
It appeared that, with the recent ascent of young First Team All-NBA guard Luka Doncic, Carlisle would be well-positioned to lead the club to many future deep playoff runs. During the last two seasons, Carlisle and Doncic led the Mavericks back to the playoffs, where they lost two consecutive hard-fought first-round battles against the Clippers.
In head coaching tenures with the Pistons, Pacers, and Mavericks, Carlisle, 61, has accrued a regular season head coaching win/loss record of 836-689. He was voted the 2001/02 Coach of the Year while with Detroit. His teams have made the playoffs in 14 of his 19 seasons as a head coach.
As Bobby Marks of ESPN notes (Twitter link), Carlisle had been the third-longest-tenured current NBA head coach, behind only five-time champion Gregg Popovich with the Spurs and three-time champion (twice as the head coach, once as an assistant) Erik Spoelstra with the Heat.
For an organization with the level of relative infrastructural stability the Mavericks had demonstrated for over a decade, this has been an unprecedented few days.
Earlier this week, a report by The Athletic detailed major front office conflict surrounding sports gambler-turned-director of quantitative research and development Haralabos Voulgaris. Yesterday, news became public that the team had parted company with GM Donnie Nelson, who had worked in the Dallas front office for 24 seasons and had held the GM position for 16 years. The decision had actually been reached on Sunday, a day before The Athletic's scathing story was published.
The Mavericks are now the seventh team to lose a head coach following the 2020/21 season. The Wizards, Trail Blazers, Celtics (the team that drafted Carlisle in 1984), Pacers (the team for which Carlisle served as a head coach from 2003-2007), Pelicans, and Magic also have head coaching vacancies. Should Carlisle want to continue coaching, there are several playoff-caliber rosters among these, sporting six 2021 All-Stars, available as of this writing.
Carlisle released a statement addressing his departure to ESPN (Twitter link via ESPN's Adrian Wojnarowski):
"After a number of in-person conversations with Mark Cuban over the last week, today I informed him that I will not be returning as head coach of the Dallas Mavericks. This was solely my decision. My family and I have had an amazing 13-year experience working with great people in a great city. It has been an honor to work along [with] Mark, [Mavericks CEO Cynt Marshall], Donnie, [vice president of basketball operations Michael Finley], [assistant GM Keith Grant], Dirk, [former Mavericks point guard Jason Kidd] and every player and assistant coach I've had here. Dallas will always be home, but I am excited about the next chapter of my coaching career."
Cuban has also weighed in on the news.
"I truly love Rick Carlisle," he said in a statement to ESPN (Twitter link via Tim MacMahon of ESPN). "He was not only a good coach but also a friend and confidant. Our relationship was so much more than basketball. And I know that won't ever change."
As for Dallas' fresh vacancy, Tim MacMahon of ESPN tweets that star Doncic is a big fan of assistant coach Jamahl Mosley. "He's got the things needed for a head coach," Doncic noted after Mosley subbed in for Carlisle during a 99-86 win over the Knicks this spring.
Mosley has been a Mavericks assistant since 2014. John Hollinger of The Athletic concurred (Twitter link) that Mosley would get significant consideration.
Doncic had still been expected to ink a super-max contract extension once he became eligible later this summer after the news broke of Nelson's departure, despite a strained relationship with Voulgaris. MacMahon tweets that the relationship between Carlisle and Doncic had also been tense, and that Carlisle may have been coaching for his job during the 2021/22 season.
Cuban informs Marc Stein of the New York Times (via Twitter) that he will look to replace Nelson as the new head of basketball operations before finding a replacement for Carlisle.
Photo courtesy of USA Today Sports Images.