11:08am: The Pelicans have officially announced Van Gundy's exit, stating in a press release that the two sides mutually agreed to part ways.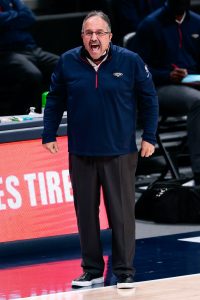 "On behalf of Mrs. Gayle Benson and the Pelicans organization, I would like to thank Stan for the integrity and professionalism that he demonstrated during his time in New Orleans, as well as the commitment and work ethic he brought to our team," Griffin said in a statement. "This was a difficult decision as I have tremendous respect for Stan both personally and professionally, but we agreed it is in the best interest of our team to move forward in a different direction. We wish Stan, Kim and their family all the best in the future."
---
9:57am: Stan Van Gundy will not return to the Pelicans for the 2021/22 season, according to Adrian Wojnarowski and Andrew Lopez of ESPN, who report (via Twitter) that Van Gundy is out after just one year as New Orleans' head coach.
Van Gundy and Pelicans executive VP of basketball operations David Griffin have met regularly since the end of the regular season to discuss the team's future, and a divorce between the team and its coach began to feel like an inevitable outcome around the organization, tweets Wojnarowski.
Van Gundy, who previously coached the Heat, Magic, and Pistons, spent a couple years as an NBA analyst from 2018-20 before returning to the head coaching ranks in 2020, when he was hired by the Pelicans. He had a disappointing season in New Orleans, however — a team that entered the year with playoff aspirations finished with a 31-41 (.431) record, missing the play-in tournament.
Replacing Alvin Gentry on the Pelicans' sidelines, Van Gundy emphasized improving the team's defense, but failed to do so, writes Christian Clark of NOLA.com. New Orleans ranked 23rd in points allowed per 100 possessions, two spots worse than in 2019/20. The Pels also had trouble closing out games, losing 14 times when they held a double-digit lead.
Clark writes that Van Gundy struggled to connect with many of the Pelicans' young players, who didn't adapt well to the drastic shift from Gentry's coaching style to Van Gundy's. Sources tell NOLA.com that Van Gundy's relationship with star forward Brandon Ingram was "strained" for much of the season.
Van Gundy joins Nate Bjorkgren, formerly of the Pacers, as the head coaches who were let go this spring after just one year on the job.
The fifth team to launch a head coaching search since the regular season ended, the Pelicans are expected to look both inside and outside of the organization as they seek Van Gundy's replacement.
Several reporters – including Kevin O'Connor of The Ringer, Will Guillory of The Athletic, and Marc Stein of The New York Times (all Twitter links) – say that current Pelicans assistant Teresa Weatherspoon is a strong contender for the position, while O'Connor also identifies Fred Vinson as a candidate.
As for external candidates, Wojnarowski names Bucks assistant Charles Lee, Lakers assistant Jason Kidd, and Nets assistants Jacque Vaughn and Ime Udoka as possibilities, noting that the Pelicans considered some of those coaches a year ago before hiring Van Gundy.
Van Gundy, meanwhile, could receive some consideration from the other four teams with head coaching openings, but may prefer to step away again after a trying season. A return to broadcasting is one possibility for the veteran coach.