11:05am: The deal with Mosley has been finalized, the Magic announced on Twitter.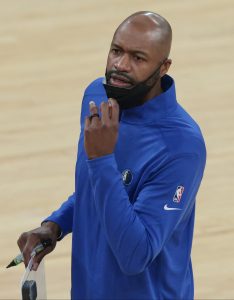 "We would like to welcome Jamahl and his family to the Magic family," president of basketball operations Jeff Weltman stated in a press release. "Within the NBA coaching community, Jamahl is considered a rising star. His coaching path is rooted in player development. He is a communicator and connector, and we look forward to him leading our group."
---
9:11am: Mavericks assistant Jamahl Mosley will be the new head coach of the Magic, tweets Shams Charania of The Athletic. Mosley has agreed in principle to a four-year contract, according to ESPN's Adrian Wojnarowski (Twitter link).
A report on Thursday suggested that Mosley was the frontrunner for the position, which has been vacant since Steve Clifford and the team agreed to part ways in early June. Nuggets assistant Wes Unseld Jr. was the other finalist for the job.
Mosley, 42, has been an assistant to Rick Carlisle in Dallas for the past seven years and has earned a reputation for building relationships and developing young talent. He had been expected to leave the organization after the Mavs hired Jason Kidd as head coach when Carlisle left.
Orlando had been targeting a young coach to oversee the team's rebuilding effort. The roster is loaded with players in their early 20s after the Magic parted with Aaron Gordon, Nikola Vucevic and Evan Fournier at the trade deadline in March.
Now that Orlando has hired a head coach, only two teams are still conducting coaching searches. Those teams are New Orleans and Washington.