The NBA Finals between the Bucks and Suns tip off tonight, and they're surrounded by much uncertainty. The biggest question, of course, relates to the health of two-time MVP Giannis Antetokounmpo, who hyperextended his knee halfway through Game 4 of the Bucks' series against the Hawks. The Bucks are being cagey with his injury — initially ruled as doubtful by the team, he has since been upgraded to questionable, with his status for Game 1 to be determined after pre-game warmups.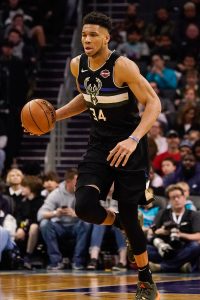 If Antetokounmpo is fully healthy, or even mostly healthy, he is a great bet to take him the coveted Bill Russell Award, which would make him the third player to have a Finals MVP, MVP, and Defensive Player of the Year award to his name, joining Michael Jordan and Hakeem Olajuwon.
If Antetokounmpo isn't ready to go by the opening tip-off, though, things get much more interesting.
The Bucks managed to get contributions from multiple sources in Games 5 and 6 of the Eastern Finals. In Game 5, Brook Lopez led the way with 33 points, going back to his Nets days as a low-post offensive hub despite the defensive presence of Hawks' center Clint Capela.
In Game 6, though, Lopez was unable to keep up the pace, providing 13 points on nine shots. It seems unlikely Lopez would be able to maintain his Game 5 level of offensive production over a full series, especially while battling with defensive anchor Deandre Ayton. If Ayton gets in foul trouble, however, Lopez could have an easier path, as the one weakness on the Suns' roster is their lack of a back-up center.
Meanwhile, Khris Middleton and Jrue Holiday both exploded in the last two games against the Hawks. Holiday averaged 26 PPG and 11 APG over the final two contests while Middleton averaged 29 PPG and 7.5 APG. The Hawks had no match for either player, though the Suns have far more wing and guard defenders to throw at them than the Hawks did.
As for the Suns, their big three of Chris Paul, Devin Booker, and Ayton have been rolling all playoffs long. While detractors have pointed to the injuries of their opponents, the Suns' ability to close out series – especially for a relatively inexperienced team – has been extremely impressive.
Ayton has been a force on both ends, averaging 17.8 PPG, 13.7 RPG and 1.7 BPG in his first Western Conference Finals. Booker, hounded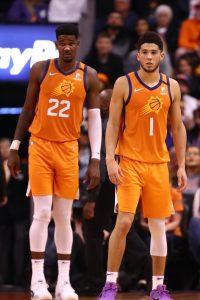 all series long by the likes of Patrick Beverley and Paul George, was able to put the team on his back as a scorer time after time. And Paul is coming off possibly the performance of his career: a 41-point, eight-assist, zero-turnover game to eliminate his former team, the Clippers, and advance to the first NBA Finals of his 16-season career.
It seems unlikely that Ayton will be named Finals MVP in the case of a Suns championship, barring an unexpected offensive explosion, but both Paul and Booker are prime candidates for the award.
In fact, according to DraftKings.com, Booker and Paul have the two highest odds for coming away with the Finals MVP, with Paul having a slight edge on Booker. Middleton and Antetokounmpo are tied for third, but Giannis' odds are sure to change if news breaks that he will, in fact, return in time to play in Game 1 of the Finals.
So here's our question of the day:
Who do you expect to be named Finals MVP?
Vote in our poll, then head to the comment section below to share your thoughts!
Trade Rumors app users, click here to vote.