AUGUST 6: The Bucks have officially re-signed Portis, the team announced today in a press release.
---
AUGUST 2: The Bucks have agreed to a two-year, $9MM contract with free agent forward Bobby Portis, reports Shams Charania of The Athletic (Twitter link). The deal will include a second-year player option, according to Charania.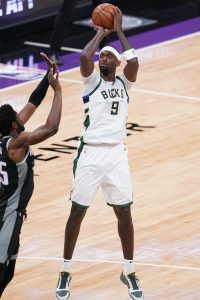 It's a team-friendly rate for Portis, who played an important role in Milwaukee's championship run this summer. As Charania explains (Twitter links), Portis turned down potential deals from the Mavericks and Heat in order to remain in Milwaukee because he appreciated the organization's culture and winning environment and the way the community embraced him.
The Bucks were limited in their ability to offer Portis much more than what he's getting, since they only held his Non-Bird rights. That meant the team couldn't give him more than a 20% raise on last year's $3.623MM salary without dipping into its mid-level exception.
It appears Milwaukee will indeed use its Non-Bird rights to bring back Portis — his two-year deal should start at about $4.35MM. If he opts out in 2022, the Bucks would have his Early Bird rights and could sign him to a more lucrative contract.
Among qualified players, only two had a higher three-point percentage in 2020/21 than Portis' 47.1% mark. He also contributed 11.4 PPG and 7.1 RPG in 66 games (20.8 MPG).