CJ McCollum is the new president of the National Basketball Players Association, writes Adrian Wojnarowski of ESPN. The Trail Blazers guard replaces Chris Paul, who served two consecutive terms totaling eight years.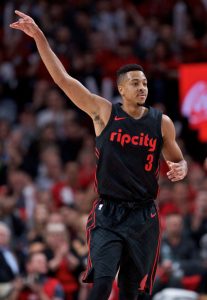 McCollum, 29, has served as a vice president on the union's executive committee for the past three years and has been a strong voice in NBPA decisions as well as negotiations with the NBA, Woj adds.
Grant Williams was elected as vice president, the league announced (via Twitter). Other members of the executive committee will be Andre Iguodala (first vice president), Harrison Barnes (secretary-treasurer) and vice presidents Bismack Biyombo, Malcolm Brogdon, Jaylen Brown, Kyrie Irving and Garrett Temple (Twitter link).
"Since entering the league, I have wanted to be involved in the and contribute to the important decisions that impact our lives as players both on and off the court," Williams tweeted. "I am honored to be selected by my peers for this position and excited to join the NBPA Executive Committee."
One of the union's first priorities under McCollum will be to find a replacement for Michele Roberts, who has served as executive director since 2014. She has announced her intentions to step down and is expected to leave her post sometime around the end of the year.
McCollum will also have to take the lead in negotiating a new Collective Bargaining Agreement, Wojnarowski points out. The current CBA runs through the end of the 2023/24 season, but either the league or the players could decide to opt out after the 2022/23 season ends.