8:35pm: A team press release has confirmed the signing, Keith Langlois of Pistons.com tweets. The second year of the contract is a team option, James Edwards III of The Athletic tweets.
---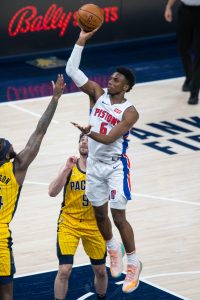 5:04pm: Restricted free agent Hamidou Diallo will remain with the Pistons on a two-year, $10.4MM deal, Adrian Wojnarowski of ESPN tweets.
Diallo's agents, Thad Foucher and Joe Smith, informed Wojnarowski of the decision.
As Bobby Marks of ESPN notes (Twitter link), the Pistons will eventually have to make another roster move to fit in Diallo, since they now have 16 guaranteed contracts on their books. There's no rush to make that move, since teams can carry up to 20 players in the offseason.
Diallo appeared in 20 games after Detroit acquired him from Oklahoma City, averaging 11.2 PPG, 5.4 RPG and 1.2 APG. The high-flying Diallo also showed improvement with his 3-point shot after the mid-season trade, draining 39% of his 3-point shots. He had a breakout season with extended playing time, as he also averaged 11.9 for OKC in 32 games.
A 2018 second-round selection, Diallo appeared in 129 games with the Thunder. He's averaged 7.5 PPG and 3.6 RPG in 17.8 MPG during his three-year career.
General manager Troy Weaver, a former Thunder executive, had prioritized re-signing Diallo this offseason. Detroit extended a qualifying offer of $2.08MM to make him a restricted free agent.
Diallo joins a crowd at the wing that includes top pick Cade Cunningham, who will often share the floor with Killian Hayes, as well Saddiq Bey, Josh Jackson, Rodney McGruder, Frank Jackson and Jerami Grant (in bigger lineups).