Taj Gibson will re-sign with the Knicks for another year, tweets Ian Begley of SNY.tv. Gibson will be a veteran's minimum deal worth about $2.64MM.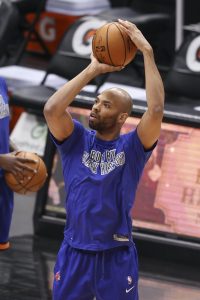 The 36-year-old center/power forward is a favorite of coach Tom Thibodeau and was with him in Chicago and Minnesota as well.
Gibson played for the Knicks in 2019/20, then returned to the team in early January and was part of the frontcourt rotation for the rest of the season, averaging 5.4 points and 5.6 rebounds in 45 games.
Gibson is the Knicks' fourth free agent to commit to staying with the team, joining Derrick Rose, Alec Burks and Nerlens Noel. The club is also adding Evan Fournier on a four-year deal.
Since Gibson's new deal will be worth the minimum, the Knicks can use up all their cap room before going over the cap to finalize the signing.