AUGUST 19: The Knicks have officially signed Bacon, according to RealGM's transactions log. It's a one-year, minimum-salary contract, and I'd be surprised if it's fully guaranteed.
---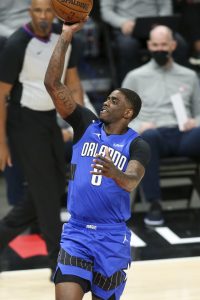 AUGUST 9: After being waived by the Magic on Sunday, free agent shooting guard Dwayne Bacon appears to have lined up a new home elsewhere in the Eastern Conference. The Knicks are set to sign Bacon on a new deal, reports Tim Bontemps of ESPN (via Twitter).
Bacon, 25, spent his first three NBA seasons with the Hornets and their NBAGL affiliate, the Greensboro Swarm.
He then signed on with the Magic in 2020, proving his durability by appearing in every single game for Orlando during the 72-game 2020/21 NBA season, including 50 starts. He averaged 10.9 PPG, 3.1 RPG, 1.3 APG and 0.6 SPG in 25.7 MPG for a lottery-bound Orlando squad. Bacon sported a shooting line of .402/.285/.824.
As Bobby Marks of ESPN (Twitter link) notes, the Knicks' roster currently projects to include 14 guaranteed deals, one non-guaranteed contract (Argentinian point guard Luca Vildoza), and one player on a two-way contract (rookie forward Jericho Sims). It's unclear whether Bacon will receive a full or partial guarantee on his new deal.
Of course, before he can sign with the Knicks, Bacon will need to clear waivers. That will happen on Tuesday, assuming he goes unclaimed.