AUGUST 28: The trade is official, the Cavaliers announced in a press release.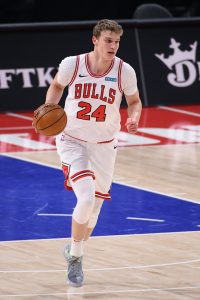 "We are extremely fortunate as an organization to be in a position to acquire another young and talented player with the skill-set of Lauri Markkanen," said Cleveland general manager Koby Altman. "He has the proven ability to play multiple positions and stretch the floor from the perimeter and, at 24-years-old, we believe his best basketball is in front of him. We are committed to establishing a winning culture in Cleveland that can be sustained over time and Lauri helps elevate that description."
---
AUGUST 27: The Cavaliers will acquire Lauri Markkanen from the Bulls in a sign-and-trade deal that also includes the Trail Blazers, tweets ESPN's Adrian Wojnarowski.
Portland will receive Larry Nance Jr. in the deal, according to Wojnarowski, and will send Derrick Jones Jr. and a 2022 protected first-round pick to Chicago. The Bulls will also get a Nuggets 2023 second-rounder from Cleveland.
The trade ends a long wait for Markkanen, who had been looking for a new team since free agency began on August 2. He will receive a four-year, $67MM contract from the Cavs, Wojnarowski reports (Twitter link), and the Bulls get the first-round pick they were seeking in return for the 24-year-old restricted free agent. That pick from Portland will be lottery protected through 2028, Woj adds (via Twitter), and will become a second-round selection if it's not conveyed before then.
Markkanen's four-year contract is valued at $18MM in the final season, but only carries a $6MM guarantee, sources tell Chris Fedor of Cleveland.com (Twitter link).
The deal leaves the Cavs $4.7MM under the luxury tax with 14 players under contract, tweets Bobby Marks of ESPN. The Blazers are $1.3MM above the tax threshold with 13 players signed and will likely be $3MM over once they add a league-mandated 14th player. The Bulls are $6.4MM under the tax and $11.8MM below the hard cap with 13 guaranteed contracts, Marks adds (Twitter link).
Markkanen's outgoing salary only counts as $7.79MM, rather than the full amount, due to base year compensation rules, Marks notes (via Twitter). Chicago had hoped to get a player in the $9-10MM range, which it did by acquiring Jones. Markkenen's incoming salary from the Cavs' perspective will be the full amount of $15.58MM.
Markkanen fell out of Chicago's starting lineup last season for the first time in his four years in the NBA and played a career-low 25.8 minutes per night. His averages of 13.6 points, 5.3 rebounds and 0.9 assists per game were all the worst of his career.
He had been hoping for a "fresh start" and will get it in Cleveland, where he will likely be the new starting power forward. The trade allows the Cavs to solidify a position of need and gives rookie big man Evan Mobley more time to develop.
Nance, 28, is under contract for two more year at $10.69MM and $9.67MM. He averaged 9.3 points and 6.7 rebounds per game last season and will bring a defensive presence to Portland's front line. New coach Chauncey Billups has spoken repeatedly about the need to upgrade the team's defense.
Jones, 24, has an expiring $9.72MM contract for the upcoming season. He averaged 6.8 points and 3.5 rebounds in 58 games last season and adds another versatile forward to Chicago's rotation.