AUGUST 8: Durant's extension is official, the Nets announced.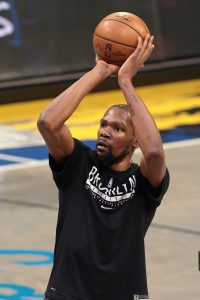 "We know who he is. Kevin Durant will establish his legacy in Brooklyn as one of the greatest ever," owner Joe Tsai said. "On behalf of the Nets organization, my family and our fans, we are excited and humbled to see a lot of Kevin for years to come."
"Kevin is a transcendent talent who continues to drive and push this franchise and the game of basketball globally," added general manager Sean Marks. "We are thrilled to continue our partnership with him for years to come. Kevin's impact both on and off the court cannot be overstated. His unparalleled drive and leadership generate sustained excellence from himself while also elevating the performance of his teammates, positioning this organization to continue the pursuit of our championship goals in Brooklyn."
---
AUGUST 6: The Nets and Kevin Durant are in agreement on a four-year, maximum-salary contract extension that will go into effect during the 2022/23 season, according to Shlomo Sprung of The Boardroom. Durant's manager Rich Kleiman confirmed the deal, which will replace the star forward's '22/23 player option.
Durant will be eligible for a 5% raise on his 2021/22 salary of $42MM, so his new deal will start at about $44.1MM in '22/23. That figure exceeds the default maximum salary for a player with 10+ years of experience, but a player's individual maximum salary on a new contract is always at least 105% of his previous salary.
In total, Durant's new extension will be worth $197.7MM over four years and will cover his age 34-37 seasons.
Durant, who signed a four-year, maximum-salary contract with the Nets in 2019, missed his entire first season in Brooklyn while recovering from an Achilles tear and was limited to just 35 regular season games in 2020/21. However, he looked like his old self in those games, averaging 26.9 PPG, 7.1 RPG, 5.6 APG, and 1.3 BPG on a scorching .537/.450/.882 shooting line.
In 12 postseason games, Durant put up 34.3 PPG, 9.3 RPG, 4.4 APG, and 1.6 BPG on .514/.402/.871 shooting, but he couldn't quite lead the Nets past the eventual-champion Bucks in the Eastern Conference Semifinals, despite a 48-point performance in a Game 7 overtime loss.
All three Brooklyn stars are eligible for contract extensions this offseason. Now that they have a deal in place for Durant, the Nets figure to shift their focus to trying to lock up James Harden and Kyrie Irving as well.