AUGUST 6: The trade is now official, according to press releases from both the Hornets and Pistons. Charlotte received Plumlee and the rights to No. 37 pick JT Thor in exchange for the rights to No. 57 pick Balsa Koprivica.
---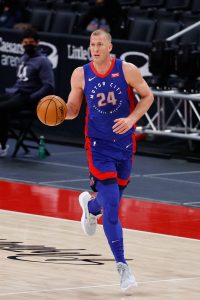 JULY 29: The Pistons and Hornets are finalizing a trade that would see Mason Plumlee sent to Charlotte along with the No. 37 pick in tonight's draft in exchange for the No. 57 pick, reports ESPN's Adrian Wojnarowski (via Twitter).
The Hornets had been expected to be one of the NBA's most aggressive teams in pursuit of a center this offseason and will get an early start on addressing that position by acquiring Plumlee, who averaged 10.4 PPG, 9.3 RPG, and 3.6 APG in 56 games (26.8 MPG) during his first and only season as a Piston.
Plumlee had been set to earn $8.1MM in 2021/22 and will receive a 10% trade bonus as a result of the deal, bumping up that cap hit by $830K, tweets ESPN's Bobby Marks.
Even at close to $9MM, Plumlee's deal isn't particularly onerous, especially since it's only partially guaranteed in 2022/23. So it's somewhat surprising that the Pistons were willing to drop down 20 spots in the draft to move off of it, especially since GM Troy Weaver just signed Plumlee to that deal last offseason.
Still, Detroit will gain cap flexibility as a result of the trade and could open up about $20MM in space rather than operating over the cap this summer, tweets Nate Duncan. The move will also create additional playing time for promising young big man Isaiah Stewart.
The deal will have to be completed once the new league year begins, when the Hornets can take Plumlee into their cap space. They'll still have about $13MM in projected cap room, according to Marks, so they could pursue another center in free agency.