Hoops Rumors is breaking down the 2021 offseason for all 30 NBA teams, revisiting the summer's free agent signings, trades, draft picks, departures, and more. We'll evaluate each team's offseason moves, examine what still needs to be done before opening night, and look ahead to what the 2021/22 season holds for all 30 franchises. Today, we're focusing on the Brooklyn Nets.
---
Free agent signings:
Note: Exhibit 10 deals aren't included here.
Trades:
Acquired Jevon Carter and the draft rights to Day'Ron Sharpe (No. 29 pick) from the Suns in exchange for Landry Shamet.
Acquired either the Wizards' or Grizzlies' 2024 second-round pick (whichever is most favorable; from Wizards), the right to swap the Warriors' 2025 second-round pick for the Wizards' 2025 second-round pick (from Wizards), and the draft rights to Nikola Milutinov (from Spurs) in a five-team trade in exchange for Spencer Dinwiddie (sign-and-trade; to Wizards).

Note: The Nets created a $11,454,048 trade exception in the deal.

Acquired Sekou Doumbouya and Jahlil Okafor from the Pistons in exchange for DeAndre Jordan, the Nets' 2022 second-round pick, either the Wizards' or Grizzlies' 2024 second-round pick (whichever is more favorable), either the Warriors' or Wizards' 2025 second-round pick (whichever is more favorable), the Nets' 2027 second-round pick, and cash ($5.78MM).

Note: Okafor has since been waived.
Draft picks:
Contract extensions:
Kevin Durant: Four years, $192,504,908 (base value). Includes $5,152,000 in incentives and 15% trade kicker. Starts in 2022/23.
Departing players:
Spencer Dinwiddie
DeAndre Jordan
Landry Shamet
Other offseason news:
Added David Vanterpool, Brian Keefe, and Kyle Korver to coaching staff; Ime Udoka and Mike D'Antoni departed coaching staff.
Added Steve Clifford as coaching consultant.
Salary cap situation:
Remained over the cap and above the tax line.
Carrying approximately $172.3MM in salary.
Used full taxpayer mid-level exception ($5.89MM) to sign Patty Mills.
Rest of non-taxpayer mid-level exception ($3,646,000) and bi-annual exception ($3,732,000) are unavailable, since using either would create a $143MM hard cap.
Three traded player exceptions available, including one worth $11.5MM and another worth $6.3MM.
Lingering preseason issues:
The Nets have 15 players on fully guaranteed contracts, plus DeAndre' Bembry on a partially guaranteed deal. In order to carry Bembry on the regular season roster, Brooklyn will need to trade or waive a player with a guaranteed salary.
The Nets have an open two-way contract slot.
The Nets have two unsigned second-round picks.
James Harden and Kyrie Irving remain eligible for veteran contract extensions, and the Nets reportedly would like to get deals done.
Nicolas Claxton also remains eligible for a veteran contract extension all season.
---
The Nets' offseason: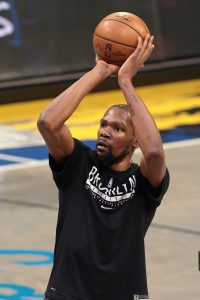 Even with Kevin Durant, James Harden, and Kyrie Irving rarely healthy at the same time in 2020/21, the Nets put up some of the best offensive numbers of all time, recording a league-leading 117.3 offensive rating during the regular season. The defense was shaky at times, but tightened up in the playoffs and would've been good enough to support a deep postseason run.
Unfortunately for Brooklyn, the injury bug bit the Big Three again in the second round vs. Milwaukee, as both Harden and Irving missed multiple games. Their absences were enough to give the Bucks the edge in a series that went down to the wire, with Milwaukee winning Game 7 in overtime.
Given how close that series with the eventual champions was, it's hard to argue the Nets weren't a championship-caliber team in their own right entering the offseason. But since Brooklyn can't necessarily count on Durant, Harden, and Irving to all be 100% healthy during next year's postseason run, the front office couldn't just stand pat this summer — it had to do all it could to upgrade the roster around the edges.
And many of those moves made around the edges were very good ones. With the Nets' Big Three earning a combined $121MM+ in 2021/22, the club had limited resources to fill out its bench, but did so admirably. Patty Mills, Bruce Brown, and Blake Griffin will count against Brooklyn's cap for a combined $12.3MM this season, while Paul Millsap, LaMarcus Aldridge, and James Johnson were among the other reliable veterans who signed minimum-salary contracts with the team.
Of course, it's easier to sign players to team-friendly contracts when you're a title contender based in New York than when you're a lottery team based in, say, Cleveland. But general manager Sean Marks still deserves high grades for the work he did on the roster this offseason, including adding a pair of low-cost first-round draftees (Cameron Thomas and Day'Ron Sharpe) to the mix.
Mills should be a clear upgrade over Mike James and Tyler Johnson in the backcourt, while Aldridge and Millsap are more suited to the Nets' small-ball lineups than a traditional center like DeAndre Jordan, who was jettisoned in a salary-dump deal.
Losing Spencer Dinwiddie is a blow to the Nets on paper, but shouldn't have a major impact on the court — after all, Dinwiddie only appeared in three games in 2020/21 before tearing his ACL, so the club did just fine without him last season.
The one spot the team's depth will be tested is on the wing, where Jeff Green, Landry Shamet, and Timothe Luwawu-Cabarrot are no longer in the picture. Bruce Brown and DeAndre' Bembry (if he makes the roster) are solid defenders, but aren't major offensive threats. Thomas was one of the NCAA's leading scorers last season, but it's unclear if he's ready to immediately jump into a regular rotation role on a veteran playoff team. If Brooklyn seeks midseason reinforcements, I'd expect the club to target wing depth.
Of course, as important as those supporting players are, the Nets' ceiling will ultimately dictated by Durant, Harden, and Irving. All three stars became extension-eligible this offseason and the franchise didn't waste any time locking up Durant to a new maximum-salary deal.
It will be interesting to see if Harden and Irving also get extensions done before the season begins. They're essentially the Nets' second and third options, but they'll be among the NBA's very highest-paid players if they receive new max deals. Harden turned 32 this summer; Irving will turn 30 this season. Brooklyn wants to keep them, of course, but it may not just be a matter of simply handing over a blank check, like in the negotiations with Durant.
---
The Nets' upcoming season:
The Nets' 2021/22 regular season may look similar to some of LeBron James' later seasons with the Cavaliers. LeBron's veteran-heavy Cavs teams never pushed all that hard for the top seed in the East, since they knew preserving their legs for a lengthy playoff run was more important than getting an extra home game or two in the postseason.
This Nets team will likely take a similar long view — winning a couple extra games in November and December isn't all that important if Durant, Harden, and Irving — or even role players like Griffin, Aldridge, and Millsap — are being overextended. Keeping the stars healthy will be Brooklyn's top priority for most of the year, and if the club still manages to earn the top seed in the East, that'll be a bonus.
If the three stars are healthy in the postseason, this team looks to me like the favorite to win the 2022 title. That's a big "if," but there aren't many teams around the league that wouldn't trade positions with the Nets if given the opportunity.
---
Salary information from Basketball Insiders was used in the creation of this post.