SEPTEMBER 15: The trade is now complete, according to press releases from the Grizzlies and Celtics.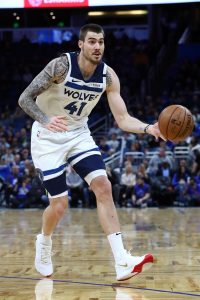 The Grizzlies, who completed another trade since agreeing to this one, officially waived Marc Gasol in order to create room on the roster to finalize this deal.
---
SEPTEMBER 3: The Grizzlies and Celtics have agreed to a trade that will send forward Juan Hernangomez to Boston, reports ESPN's Adrian Wojnarowski (via Twitter). Sources tell Wojnarowski that the deal will send Kris Dunn, Carsen Edwards, and a 2026 second-round pick swap to Memphis.
The trade can't be completed until September 15, when the aggregation restriction on Dunn lifts, according to Wojnarowski (Twitter link). Dunn was traded from Atlanta to Boston on August 7.
By trading two players for one, the Celtics will clear a minor roster crunch. The team had been carrying 16 players, including 15 on fully guaranteed deals. This move will give the team the flexibility to keep Jabari Parker on its regular-season roster or leave its 15th spot open to start the season. Dunn, acquired last month, wasn't in the team's plans, and Edwards hadn't evolved into a reliable rotation player since being selected 33rd overall in the 2019 draft.
Hernangomez, meanwhile, will give Boston another frontcourt option. The 25-year-old stretch four had a mediocre year in 2020/21, averaging 7.2 PPG and 3.9 RPG on .435/.327/.619 shooting in 52 games (17.3 MPG). However, he has flashed some potential in the past, making 35.9% of his career three-pointers prior to last season.
As for the Grizzlies, they appeared to be moving closer to setting a 15-man regular season roster last week when they bought out Rajon Rondo, but this deal has them heading in the other direction once again. When it's complete, Memphis will have a full 20-man roster, with 18 players on fully guaranteed standard contracts.
While it's possible Dunn or Edwards is in the Grizzlies' plans for 2021/22, that's probably not a safe assumption, given the way Memphis has been moving on from recently-acquired players in recent weeks (Hernangomez, Rondo, and Patrick Beverley). As John Hollinger of The Athletic tweets, this trade saves Memphis a tiny bit of money and earns the team a 2026 second-round pick swap — those small gains may have been all the motivation the Grizzlies needed to pull the trigger.
The Grizzlies have traded away their own 2026 second-round pick, but control the rights to either Indiana's or Miami's pick (whichever is most favorable). The swap with Boston will likely allow them to trade that pick for the Celtics' 2026 second-rounder if they so choose.
Hernangomez, Dunn, and Edwards are essentially all on expiring contracts. Hernangomez has a non-guaranteed salary for 2022/23, Edwards has a team option, and Dunn will be an unrestricted free agent.
No team has completed more trades this offseason than the Grizzlies — this will be their sixth deal since the regular season ended. It will be the Celtics' fifth offseason trade.