Longtime NBA sharpshooter J.J. Redick has announced his retirement from the league, confirming the news during the latest episode of his podcast, The Old Man and the Three (video link).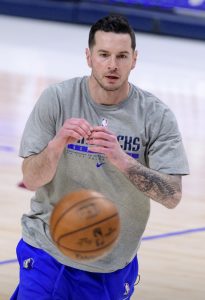 "The last 30 years of basketball have been beyond my wildest dreams," Redick said in a prepared statement. "I never could have imagined that I would have played basketball for this long. After years of youth leagues, AAU, high school basketball, four years at Duke, and 15 years in the NBA, I'm retiring from the game that I love so much."
Redick, 37, entered the league in 2006 as the 11th overall pick out of Duke. He spent the next 15 seasons appearing in a total of 940 regular season games for the Magic, Bucks, Clippers, Sixers, Pelicans, and Mavericks, averaging 12.8 PPG, 2.0 RPG, and 2.0 APG with a .447/.415/.892 shooting line in 25.5 minutes per contest. He also appeared in 110 postseason games, making it to the NBA Finals once with Orlando in 2009.
Redick is one of the most prolific three-point shooters in NBA history, having knocked down a total of 1,950 shots from beyond the arc. That puts him 15th on the league's all-time list.
Redick's final season in the NBA was marred by a heel injury, as he was limited to a total of 44 games for New Orleans and Dallas in 2020/21. In today's announcement, he addressed his underwhelming last year
"Going into last season, I wanted it to be my last year, but wasn't sure how the season would play out," Redick explained. "It was difficult for a number of reasons — being injured, being away from my family, COVID protocols, and really, truly, not playing up my standards. I would like to describe last season as a seven-month exercise in coming face-to-face with my own athletic mortality, and it was scary and confusing.
"I wanted to give myself some time to reflect and figure out if I wanted to keep playing. It's one of the reasons that I told teams that called during free agency that I would decide later on. I didn't want to commit to anything until I was sure. I have some clarity now, and I know it's time. It's time for me to be a dad; it's time for me to reflect, pause; it's time for me to get ready for the next phase of my life."
Redick stated last month that he didn't plan to join an NBA team for training camp, but was still leaning toward signing later in the season and pursuing his first championship. As such, it sounds as if his decision to retire wasn't finalized until the last few weeks.
It's unclear whether Redick will have any interest in pursuing a coaching or front office role during the next phase of his career. Given the success of his Old Man and the Three podcast, a position in the media may be more up his alley.