SEPTEMBER 1: Nearly a month after initially agreeing to terms with Rivers, the Nuggets made the deal official on Tuesday, per NBA.com's transactions log. The one-year contract is believed to be worth the veteran's minimum, though that has yet to be formally confirmed.
---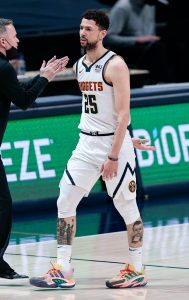 AUGUST 2: The Nuggets have agreed to re-sign Austin Rivers to a one-year contract, agents Aaron Mintz and Dave Spahn tell Chris Haynes of Yahoo Sports (Twitter link).
After signing with the Knicks as a free agent last offseason, Rivers had a short-lived stint in New York. He was traded to Oklahoma City and subsequently waived before joining a Nuggets team that was hit hard by backcourt injuries down the stretch.
With Jamal Murray and Will Barton sidelined, Rivers played big minutes for the Nuggets in his 15 regular season games with the club, averaging 8.7 PPG, 2.6 APG, and 2.1 RPG on .418/.375/.706 shooting in 26.9 minutes per contest. He played even more in the postseason, starting nine of 10 games and averaging 9.2 PPG on .435/.413/.813 shooting in 30.5 MPG.
With Murray's absence expected to stretch well into 2021/22, there should be playing time available for Rivers going forward.
It has been a busy night for the Nuggets. Less than four hours into free agency, they've already agreed to re-sign Rivers, Barton, and JaMychal Green while also lining up a deal with free agent forward Jeff Green. Denver now has 15 players who project to be on the regular season roster, so the team may be done shopping for the time being.