Hoops Rumors is breaking down the 2021 offseason for all 30 NBA teams, revisiting the summer's free agent signings, trades, draft picks, departures, and more. We'll evaluate each team's offseason moves, examine what still needs to be done before opening night, and look ahead to what the 2021/22 season holds for all 30 franchises. Today, we're focusing on the Dallas Mavericks.
---
Free agent signings:
Note: Exhibit 10 deals aren't included here.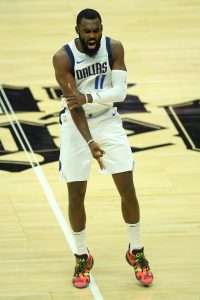 Trades:
Acquired Moses Brown from the Celtics in exchange for Josh Richardson.

Note: The Mavericks created a $10,865,952 trade exception in the deal.
Draft picks:
Contract extensions:
Luka Doncic: Five years, maximum salary. Projected value of $207,060,000. Includes fifth-year player option and 15% trade kicker. Starts in 2022/23.
Departing players:
Other offseason news:
Hired Jason Kidd as head coach to replace Rick Carlisle.
Hired Nico Harrison as general manager/president of basketball operations to replace Donnie Nelson.
Hired Igor Kokoskov, Jared Dudley, Sean Sweeney, Greg St. Jean, and Kristi Tolliver as assistant coaches; lost assistants Jamahl Mosley, Jenny Boucek, Zach Guthrie, and Mike Weinar.
Hired Dirk Nowitzki as special advisor.
Promoted Michael Finley to assistant GM/VP of basketball operations.
Did not retain front office executive Haralabos Voulgaris.
Salary cap situation:
Remained over the cap and below the tax line.
Carrying approximately $120.2MM in salary.
Hard-capped at $143MM.
Full mid-level exception ($9,536,000) used on Reggie Bullock.
$732,000 of bi-annual exception still available ($3MM used on Sterling Brown).
Two traded player exceptions available, including one worth $10.9MM.
Lingering preseason issues:
The Mavericks have 15 players on fully guaranteed contracts and one (Moses Brown) on a partially guaranteed contract. One of those 16 players will have to be traded or released before opening night.
Dwight Powell and Maxi Kleber are eligible for veteran contract extensions until October 18.
Jalen Brunson and Dorian Finney-Smith are eligible for veteran contract extensions all season.
---
The Mavericks' offseason:
Before they'd added or lost a single player, the Mavericks had already endured a more eventful, tumultuous offseason than at least half the NBA's clubs.
Entering the summer, head coach Rick Carlisle and president of basketball operations Donnie Nelson were two of the longest-tenured team leaders in the NBA, having worked together in their current roles since 2008. In the span of just two days in June, however, both Carlisle and Nelson left the franchise.
The team classified their exits as Carlisle stepping down and Nelson and the Mavs agreeing to go their separate ways, so it's not as if owner Mark Cuban necessarily planned on cleaning house over the summer. Still, even if they departed the Mavs on relatively good terms, Carlisle and Nelson likely wouldn't have left at all if things were running perfectly smoothly in Dallas.
One report in June suggested that Nelson's influence in the front office wasn't as strong as it had once been, while another story indicated that Carlisle's abrasive personality had a tendency to rub some players – including superstar Luka Doncic – the wrong way. Those reports didn't exactly portray an organization in disarray, but Cuban and his team still likely felt some pressure to get their GM and head coach choices right in order to bring some stability to Dallas going forward.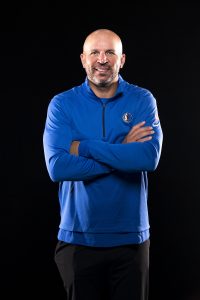 Replacing Nelson in the front office will be longtime Nico Harrison, who has drawn interest from NBA teams in the past but has spent the past two decades working at Nike. That role allowed him to establish strong connections with players throughout the league, though he has no history of making key personnel and roster decisions for an NBA franchise and may lean on the more experienced executives in the Mavs' front office during his first year on the job.
The new head coach will be Jason Kidd, who won a title with the Mavericks as a player and has received rave reviews as a Lakers assistant coach during the last two seasons.
Kidd doesn't have an unblemished résumé — his head coaching stints in Brooklyn and Milwaukee were up and down, and he has a history of legal issues, having pleaded guilty to a domestic abuse charge in 2001 and a misdemeanor DWI charge in 2013. But after going through the interview process, the Mavs felt confident that Kidd's legal troubles were behind him and believed he was the man for the job.
Given that Doncic occasionally clashed with Carlisle and was said to have a "strained" relationship with former team executive Haralabos Voulgaris, the Mavs almost certainly made it a top priority to make their franchise player happy with their coaching and front office hires. Doncic knows Harrison from his time at Nike and will now get an opportunity to learn from a Hall-of-Fame point guard in Kidd.
In addition to factoring into the Mavs' organizational hires, the presence of Doncic dictated how the team approached its roster moves this summer. It was imperative to surround the All-NBA guard with enough shooting to space the floor and give him plenty of room to operate, so Dallas committed major long-term money to bring back Tim Hardaway Jr. and to land Reggie Bullock and Sterling Brown in free agency.
Once viewed as a somewhat low-efficiency scorer, Hardaway has improved his three-point shot in recent years and become a more reliable option on the wing, hitting 39.4% of his attempts from beyond the arc over the last two seasons. Bullock has always been a knock-down outside shooter, making 40% of his threes since 2015. Brown played a career-high 24.1 minutes per game in 2020/21 and bumped his three-point conversion rate to an impressive 42.3% in the process.
Shooting doesn't come cheap — the Mavs will pay Hardaway and Bullock a combined $30MM or so per year for the next three seasons, and acquired Brown by becoming the only team in the NBA willing to use its bi-annual exception this season. Still, improving in that area was a must for a team that finished in the bottom half of the league in three-point percentage in 2020/21, and the new additions – Bullock and Brown – won't hurt the Mavs on defense either.
Outside of those signings, the Mavs had a fairly quiet summer in terms of roster moves. Boban Marjanovic was re-signed and Dallas took a flier on former lottery pick Frank Ntilikina, but the club didn't have any draft picks and its only trade was essentially a salary dump, with Josh Richardson sent to Boston in exchange for a player who isn't a lock to make the regular season roster (Moses Brown).
Dallas will remain on the lookout for opportunities to further upgrade its roster around Doncic, but for now the hope is that Kidd can coax a bounce-back season out of Kristaps Porzingis and that the new three-and-D wings in the rotation can make an impact on both sides of the ball.
---
The Mavericks' upcoming season:
Dallas' 2020/21 season (42-30, first-round loss to the Clippers) looked awfully similar to the team's '19/20 outcome (43-32, first-round loss to the Clippers). It's clear by now that as long as Doncic stays healthy, the Mavs' floor is high, and they should be back in the playoffs again in '21/22. What remains to be seen is how high this group's ceiling is.
Doncic is fully capable of being the best player on the court in any playoff matchup, but he'll need more help from his supporting cast, starting with Porzingis. The optimal version of KP – a big man who can hit threes and protect the rim – is an ideal partner for Doncic, but leg injuries have limited his impact in recent years, especially on defense.
Kidd has talked about empowering Porzingis more on offense this season rather than just having him stand in the corner, and that sounds good in theory. But ultimately Porzingis' ability to become a legit co-star for Doncic will hinge on his health. If it's an issue again in 2021/22, the Mavs may have to reevaluate his long-term future with the franchise. If it's not, Dallas' potential upside is intriguing.
---
Salary information from Basketball Insiders and Spotrac was used in the creation of this post.