Hoops Rumors is breaking down the 2021 offseason for all 30 NBA teams, revisiting the summer's free agent signings, trades, draft picks, departures, and more. We'll evaluate each team's offseason moves, examine what still needs to be done before opening night, and look ahead to what the 2021/22 season holds for all 30 franchises. Today, we're focusing on the Miami Heat.
---
Free agent signings:
Note: Exhibit 9 and 10 deals aren't included here.
Trades:
Draft picks:
Contract extensions:
Jimmy Butler: Three years, maximum salary. Includes 15% trade kicker. Starts in 2023/24.

Note: Butler's starting salary in 2023/24 will be the lesser amount of $45,183,960 or 35% of the '23/24 salary cap.
Departing players:
Precious Achiuwa
Goran Dragic
Other offseason news:
Victor Oladipo is recovering from quad tendon surgery and won't play until sometime in 2022.
Being investigated by NBA for possible gun-jumping violation in Kyle Lowry sign-and-trade.
Salary cap situation:
Remained over the cap and below the tax line.
Carrying approximately $136.3MM in salary.
Hard-capped at $143MM.
$2,536,000 of non-taxpayer mid-level exception still available ($7MM used on P.J. Tucker).
Full bi-annual exception ($3,732,000) still available.
---
The Heat's offseason:
The Heat engaged in Kyle Lowry trade talks with the Raptors at last season's deadline, but ultimately couldn't agree to terms on a deal. The team pivoted to Victor Oladipo, who appeared in just four games for Miami before missing the rest of the season due to knee and quad problems. The Heat were subsequently swept out of the playoffs in the first round by the eventual-champion Bucks.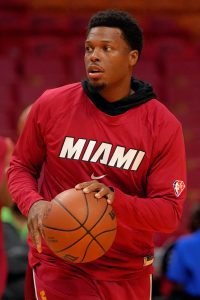 That sounds like a disaster, but it may actually turn out to be a blessing in disguise for Pat Riley's team. The Raptors were reportedly seeking a package centered around Tyler Herro or Duncan Robinson in exchange for Lowry at the trade deadline — their asking price dropped substantially once the veteran reached free agency and decided he wanted to join the Heat.
Rather than giving up Robinson, who signed a new five-year contract with Miami, or Herro, who could be poised for a breakout year, the Heat only had to surrender Goran Dragic and Precious Achiuwa in their sign-and-trade for Lowry.
Dragic is a solid, reliable player and Achiuwa, a 2020 first-round pick, still has a good deal of upside. But Achiuwa wasn't one of the Heat's cornerstone building blocks like Herro, Robinson, or Bam Adebayo, and Dragic isn't at the same level as Lowry, one of the league's most underappreciated stars.
It's possible the last year of Lowry's three-year, $85MM contract will look bad by 2023, but in the short term, the 35-year-old makes the Heat a more serious contender. While Lowry's play-making ability and outside shooting acumen will make him a nice addition to Miami's offense, it's his effort level, toughness, and defensive ability that make him a perfect fit for the Heat.
After acquiring Lowry, the team doubled down on those traits by dedicating most of its mid-level exception to P.J. Tucker, a versatile defender who has shown a willingness over the years to handle some of the toughest assignments on the floor, whether that means guarding an elite wing scorer or a seven-foot center.
The mid-level exception was the only bullet the Heat really had left in the chamber after committing big money to Robinson and Lowry, so it's fair to question the decision to spend most of it on Tucker, a player who contributes next to nothing on offense. But as long as he's sharing the floor with players like Jimmy Butler, Lowry, Adebayo, Herro, and Robinson, Miami should have enough firepower, and head coach Erik Spoelstra will be able to form some tenacious defensive lineups.
To supplement Tucker at the power forward spot, the Heat signed Markieff Morris to a minimum-salary contract. Like Tucker, Morris isn't much of an offensive threat, but he's a tough, versatile big man who played an important role for the champion Lakers in 2020.
In order to remain below the tax line, the Heat filled out their roster with minimum-salary players, opting not to re-sign Kendrick Nunn or use their bi-annual exception. As a result, there are some questions about the team's depth.
With Oladipo sidelined for the foreseeable future and Udonis Haslem not expected to play much, if at all, Miami will be leaning on KZ Okpala, Max Strus, Gabe Vincent, Omer Yurtseven, Caleb Martin, and Marcus Garrett, a group of relatively inexperienced youngsters. The club will also be counting on veteran center Dewayne Dedmon to carry over his second-half performance from 2020/21.
If Dedmon plays well and a couple of the young players emerge as reliable rotation pieces, the Heat should have enough depth to get by. If not, or if there are injury issues, the club may have to ask its starters to play big regular-season minutes.
---
The Heat's season:
The Heat's top six or seven players should be able to compete with just about any other top six or seven in the NBA, which bodes well when the postseason arrives and coaches shorten their rotations. The challenge will be to get through the regular season in a safe playoff position without wearing out the veterans too much.
A realistic projection for Miami probably has them finishing in the No. 3-6 range and perhaps winning a single series before being knocked out of the playoffs. But if everything goes right, the Heat could be a legitimate threat to upset top-tier Eastern Conference teams like the Nets and Bucks and make a deeper playoff run, like they did in the Orlando bubble in 2020.
---
Salary information from Basketball Insiders and Spotrac was used in the creation of this post.