Hoops Rumors is breaking down the 2021 offseason for all 30 NBA teams, revisiting the summer's free agent signings, trades, draft picks, departures, and more. We'll evaluate each team's offseason moves and look ahead to what the 2021/22 season holds for all 30 franchises. Today, we're focusing on the Minnesota Timberwolves.
---
Free agent signings:
Note: Exhibit 9 and 10 deals aren't included here.
Trades:
Draft picks:
Draft-and-stash signings:
Leandro Bolmaro (No. 23 pick; 2020 draft)

Signed to rookie scale contract (four years, $11,805,395).
Contract extensions:
Departing players:
Jarrett Culver
Juan Hernangomez
Ricky Rubio
Other offseason news:
Fired president of basketball operations Gersson Rosas; promoted Sachin Gupta to head of basketball operations.
Alex Rodriguez and Marc Lore approved as part-owners; the Wolves' succession plan calls for them to take over as majority owners in 2023.
Hired Elston Turner, Micah Nori, and Joe Boylan as assistant coaches; lost assistant coaches David Vanterpool, Bryan Gates, and Joseph Blair.
Salary cap situation:
Remained over the cap and below the tax line.
Carrying approximately $135.8MM in salary.
Full non-taxpayer mid-level exception ($9,536,000) and bi-annual exception ($3,732,000) still available.

Note: The Timberwolves wouldn't be able to fully use both exceptions, since doing so would hard-cap the team at $143MM.

One traded player exception ($4.75MM) available.
---
The Timberwolves' offseason:
Through mid-August, few NBA teams had experienced a quieter offseason than the Timberwolves. They entered the offseason with no draft picks and no cap space, limiting their ability to make meaningful roster upgrades.
The trade market was the Wolves' best bet for a shakeup, but two weeks into free agency, the club's activity had been limited to one deal: sending Ricky Rubio to Cleveland in exchange for Taurean Prince, a future second-round pick, and some cash.
The benefits of the move were three-fold — while both players are on expiring deals in 2021/22, Prince makes less money than Rubio, freeing up a little extra room below the tax line for the Wolves. The team also picked up a couple extra assets in the swap (the draft pick and cash) while addressing, to some extent, its major hole at the forward position. Prince isn't a difference-maker, but he's capable of taking on a rotation role and playing either the three and four. Minnesota was in short supply of that type of player last season.
Still, it's not as if Rubio was someone the Wolves necessarily wanted to salary-dump. The Spaniard had a real impact on rookie Anthony Edwards last season, and the team's point guard depth chart looked a little thin without Rubio on it — especially since D'Angelo Russell was coming off an injury-plagued season in which he was limited to 42 games.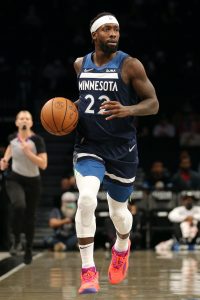 So, with virtually all the top free agents off the market, the Wolves once again turned to the trade market a couple weeks into the new league year, sending Juan Hernangomez and Jarrett Culver to Memphis in exchange for veteran guard Patrick Beverley.
The Wolves' relationship with Hernangomez became strained over the summer when the organization held him back from participating in the Olympics due to a shoulder injury, so it made sense to move on from him. Trading Culver was a tougher pill to swallow. Gersson Rosas' first major move when he took over as the head of basketball operations in Minnesota in 2019 was to trade up from No. 11 to No. 6 in order to nab Culver. However, the former Texas Tech standout made little impact at the NBA level in his first two seasons, prompting the Wolves to admit defeat on that pick.
Beverley isn't the passing maestro that Rubio is, but he's a better shooter, and the Wolves hope he can play a somewhat similar role, bringing toughness and veteran leadership to a team that needs it. He'll be Russell's backup, but he's capable of playing alongside him too, handling the tougher defensive assignments in order to allow D-Lo to focus more on his offensive game.
The Wolves filled out their depth chart in September by re-signing a pair of restricted free agents, Jarred Vanderbilt and Jordan McLaughlin, to multiyear contracts. Vanderbilt was one of the few forwards the team could rely on in 2020/21 and should continue to play a regular role going forward.
The team's acquisition of Beverley suggests the front office wasn't comfortable with the idea of having McLaughlin as its primary backup at the point. But he has provided steady production in limited minutes over the last two seasons and looks a lot better as the third option behind Russell and Beverley.
Minnesota also made up for its lack of a first-round pick this year by signing 2020 first-rounder Leandro Bolmaro after stashing him in Spain for a year. It's not the most satisfying consolation prize, since Bolmaro probably isn't ready for regular NBA minutes and the team surely would've rather had the No. 7 pick it had to send to Golden State as part of last year's Russell trade. But it's better than nothing.
Just as it seemed like the Wolves were wrapping up a fairly quiet, uneventful offseason, the team shocked the basketball world by firing Rosas and replacing him with top lieutenant Sachin Gupta.
The timing of the move – which happened just days before training camp – raised eyebrows around the league, and while team ownership insisted it was performance-related, it's safe to assume the extramarital relationship Rosas was reportedly having with a team staffer resulted in the team expediting his dismissal. While current owner Glen Taylor announced the decision, the incoming ownership group – which won't take full control until 2023 – certainly would've been involved in those discussions too.
Rosas' fingerprints all over the current roster, which he overhauled upon taking the reins in 2019. Karl-Anthony Towns and Josh Okogie are the only players from the previous regime still with the current group, and Rosas mortgaged major draft capital in the trade for Russell. He may no longer be a part of Minnesota's front office, but the way this year's squad performs will be a reflection on Rosas' team-building ability, for better or worse.
---
The Timberwolves' season:
The Timberwolves won 19 games in 2019/20 and 23 in 2020/21. On paper, with so few changes to this year's roster, there's little reason to expect much improvement on those numbers.
But some better injury luck would go a long way toward allowing Minnesota to at least compete for a play-in spot. Good friends Towns and Russell have barely played together since D-Lo was acquired at the 2020 trade deadline, and Malik Beasley missed about half the team's games last season due to injuries and a suspension.
Availability wasn't a problem for Edwards, the one Minnesota player who appeared in all 72 games in '20/21, but the club can still expect more from him in his sophomore season, as he appeared to be taking the first steps toward stardom in the second half of his rookie year.
The Wolves are probably a power forward away from becoming a legit playoff team (they're one of the few clubs that would be a great fit for Ben Simmons, and they have interest). But there's enough talent here to avoid another bottom-three finish in the West, and if things break right, a play-in spot could be in play.
---
Salary information from Basketball Insiders and Spotrac was used in the creation of this post.