Hoops Rumors is breaking down the 2021 offseason for all 30 NBA teams, revisiting the summer's free agent signings, trades, draft picks, departures, and more. We'll evaluate each team's offseason moves and look ahead to what the 2021/22 season holds for all 30 franchises. Today, we're focusing on the New York Knicks.
---
Free agent signings:
Note: Exhibit 9 and 10 deals aren't included here.
Trades:
Acquired the draft rights to Rokas Jokubaitis (No. 34 pick) and the draft rights to Miles McBride (No. 36 pick) from the Thunder in exchange for the draft rights to Jeremiah Robinson-Earl (No. 32 pick).
Acquired the draft rights to Quentin Grimes (No. 25 pick) and the Pistons' 2024 second-round pick from the Clippers in exchange for the draft rights to Keon Johnson (No. 21 pick).
Acquired the Hornets' 2022 first-round pick (top-18 protected) from the Hornets in exchange for the draft rights to Kai Jones (No. 19 pick).
Acquired Evan Fournier (sign-and-trade), the Hornets' 2022 second-round pick (top-55 protected), and either the Thunder's, Wizards', Heat's, or Mavericks' 2023 second-round pick (whichever is least favorable) from the Celtics in exchange for cash ($110K).

Note: If either the Heat's or Mavericks' 2023 second-round pick is the least favorable of the four, the Knicks would instead receive the second-least favorable pick of the four.
Draft picks:
1-25: Quentin Grimes

Signed to rookie scale contract (four years, $11,128,042).

2-34: Rokas Jokubaitis
2-36: Miles McBride

Signed to three-year, minimum-salary contract. Third-year team option. Signed using cap room.

2-58: Jericho Sims

Signed to two-year, two-way contract.
Contract extensions:
Julius Randle: Four years, $106,444,800 (base value). Includes $15,966,720 in incentives, a fourth-year player option, and a 15% trade kicker. Starts in 2022/23.
Departing players:
Other offseason news:
Signed general manager Scott Perry to two-year contract extension.
Salary cap situation:
Went under the cap, used their cap room, then used the room exception.
Carrying approximately $119.1MM in salary.
Hard-capped at $143MM.
---
The Knicks' offseason:
Armed with more cap flexibility than just about every other team in the NBA entering the 2021 offseason, the Knicks could've gone in a number of different directions in free agency and on the trade market.
Although New York hadn't been the most desirable destination for top-tier free agents over the last several years, the team earned a playoff berth last season and its new-look front office and coaching staff helped established some stability within the organization. If the Knicks had wanted to go out and chase impact free agents, those players were probably more inclined to listen to the club's pitch than they would have been in past years.
Rather than shaking up their roster too significantly though, the Knicks doubled down on the core that led the turnaround in 2020/21.
That meant Alec Burks and Nerlens Noel, who signed team-friendly one-year deals in 2020, got three-year contracts and sizable raises. Derrick Rose, a midseason trade acquisition who was a key part of New York's second-half push into the postseason, also received a three-year deal and a pay bump. Even Taj Gibson, who helped solidify the frontcourt during Mitchell Robinson's injury absence, was rewarded with a salary increase — after Gibson initially agreed to a minimum-salary contract, the Knicks decided to give him $5MM per year with their room exception that may have otherwise gone unused.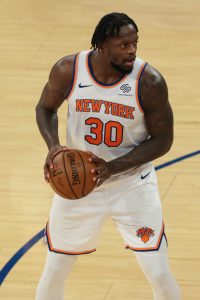 In addition to re-signing their own free agents, the Knicks made a long-term commitment to Julius Randle, offering the most money they could over four years ($106MM, or up to $122MM with incentives) following his breakout season. Some of the gains Randle made in 2020/21 – such as his .411 3PT% – may be unsustainable, but the extension was still a win for New York. The 26-year-old could easily have decided to wait a year and try his luck in free agency, where he would've been eligible for a much larger payday. The Knicks were able to lock him up at a rate more commensurate with a No. 2 option than a maximum-salary star.
Not every one of the team's key players returned. Reggie Bullock, a three-and-D specialist who played more minutes last season than every Knick except for Randle and RJ Barrett in '20/21, chose the Mavericks in free agency. New York had plenty of cap room to replace him though, and after considering other wings like DeMar DeRozan, the front office brought in Evan Fournier, whose four-year, $73MM contract was the biggest free agent deal handed out by the organization this summer. Fournier isn't the defender Bullock is, but he has a more well-rounded offensive game.
Finally, there had been speculation entering the summer that the Knicks would make a run at a free agent like Spencer Dinwiddie or Lonzo Ball to address the point guard position, which was viewed as their most glaring need. New York did turn to free agency to fill its hole at the point, but the choice was an unexpected one — after being traded from Boston to Oklahoma City, Kemba Walker reached a buyout agreement with the Thunder that allowed him to sign with his hometown Knicks.
It was a fortuitous turn of events for the team. Walker has a history of knee issues that could be a problem, but when he's healthy and at his best, he's an All-Star caliber player who was available at a bargain price due to the circumstances of his availability and his desire to play in New York. Walker is a defensive downgrade from Elfrid Payton, and relying on Kemba and Rose as the top two point guards on the depth chart is a risky endeavor. But as long as he's available, Walker will provide a major influx of offensive firepower.
Besides having plenty of cap room, the Knicks entered the offseason with four 2021 draft picks, including two in the first round and three in the top 32. The team made multiple draft-night deals to move down from their original slots, picking up a couple future picks in the process, but still came away with four players — two (Quentin Grimes and Miles McBride) who made the 15-man roster, one (Jericho Sims) on a two-way deal, and one (Rokas Jokubaitis) who will remain overseas for at least another year. Given the amount of veteran depth the Knicks are carrying, I wouldn't expect them to count on any of their rookies to play big roles right away.
The Knicks still have a surplus of future draft picks they could use to go shopping on the trade market at some point, but this offseason essentially represented the end of their rebuilding era. The years they spent hoarding cap room and drafting in the top 10 are over for the time being — while most of the contracts the Knicks handed out this offseason have early outs (via non-guaranteed final seasons), the team will be operating well over the cap in 2022.
---
The Knicks' season:
After finishing no better than 18 games below .500 for six straight seasons, the Knicks posted a 41-31 record and claimed the No. 4 seed in the Eastern Conference in 2020/21. That kind of massive jump is a rarity in the NBA, and it's fair to expect some regression going forward.
Still, even if the Knicks take a step back, it shouldn't be a big one. Tom Thibodeau's impact is real, there's plenty of depth on the roster, and Barrett should keep getting better. Plus, it's not as if everything went right last season — Robinson missed more than half the season, and Rose only arrived midway through the year. It's overly optimistic to count on 82 games from Rose, but if he and Robinson play more minutes in 2021/22, it should only increase the club's ceiling.
Competition in the Eastern Conference will be stiffer going forward than it was last season, when presumed contenders like the Celtics, Heat, Raptors, and Pacers all fell well short of expectations. Another top-four finish may be unlikely, but the Knicks have more than enough talent to remain firmly in the playoff mix.
---
Salary information from Basketball Insiders and Spotrac was used in the creation of this post.