10:20am: The Bucks have officially announced Horst's extension.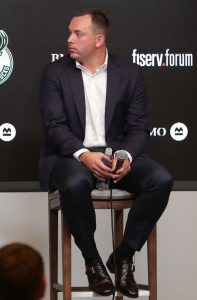 "Jon's preparedness, decision-making and leadership have been instrumental in the Bucks' success during his tenure, and he has earned this extension," Bucks co-owners Marc Lasry, Wes Edens, and Jamie Dinan said in a statement. "We appreciate Jon's hard work and creativity and are excited that he will continue to lead our basketball operations for years to come."
---
10:09am: The Bucks and general manager Jon Horst have reached an agreement on a long-term contract extension, reports ESPN's Adrian Wojnarowski.
As Wojnarowski writes, Horst had been entering the final year of his existing contract. His new deal, which was finalized on Friday morning, will cover "several" years.
Horst first assumed control of the Bucks' basketball operations department in 2017, receiving a promotion from his role as director of basketball operations to replace John Hammond as general manager. His original contract was for three years, and he had two more years tacked onto it in 2019.
The Bucks couldn't have asked for much more from Horst during his first four seasons on the job. The team has a 206-103 record (.667) in the regular season during that time and won its first title in 50 years in 2021. Horst was also named Executive of the Year in 2019.
Milwaukee's championship core remains in place for the next several seasons, with Giannis Antetokounmpo under contract through at least 2025, Jrue Holiday locked up through 2024, and Khris Middleton secured through 2023. While the Bucks may face tough decisions on role players in the next year or two, the team has now locked up its off-court leaders as well, extending both Horst and head coach Mike Budenholzer this offseason.