1:55pm: Jackson's extension is now official, per NBA.com's transactions log. According to ESPN's Bobby Marks (Twitter link), the deal has a first-year salary of $28.9MM and declines annually from there. Marks also confirms that it'll include prior injury exclusion (Exhibit 3) language related to Jackson's left knee.
---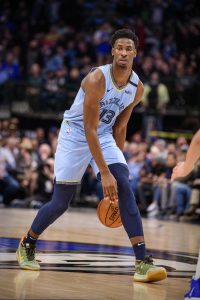 12:41pm: There will be injury protections in the deal, sources tell Joe Vardon of The Athletic. According to Vardon, if Jackson gets hurt again, the Grizzlies would have the ability to save some or all of the money they'd owe him.
We'll have to wait for the specific details, but typically, that sort of contract language applies to a reoccurrence of a similar prior injury. For instance, the agreement might make Jackson's future salaries non-guaranteed if he has more health issues related to his left knee.
Joel Embiid's rookie scale extension with Philadelphia had language along those lines. But again, we'll have to wait for more specifics on Jackson's deal.
---
10:40am: The Grizzlies and power forward Jaren Jackson Jr. have reached an agreement on a rookie scale extension, according to ESPN's Adrian Wojnarowski. Agent Austin Brown of CAA Basketball tells Wojnarowski that Jackson is signing a four-year, $105MM extension with the team. It will go into effect in 2022/23.
Jackson, 22, was the fourth overall pick in the 2018 draft and started 113 of the 115 games he played for Memphis in his first two NBA seasons. In 2019/20, he averaged 17.4 PPG, 4.6 RPG, and 1.6 BPG on .469/.394/.747 shooting in 57 contests (28.5 MPG).
However, Jackson was sidelined for the majority of the '20/21 campaign while recovering from surgery to repair a torn meniscus in his left knee. He returned late in the season for just 11 games and didn't quite look like he was back up to full speed, averaging 14.4 PPG on a modest .424/.283/.833 shooting line.
Despite coming off a season nearly entirely lost to injury, Jackson remains a key part of the Grizzlies' long-term plans, along with guard Ja Morant, who will be up for a rookie scale extension of his own in 2022.
As Wojnarowski writes, Memphis views Jackson as one of the more versatile and dynamic young bigs in the NBA. The team chose to lock him up now rather than risk paying an even higher price in restricted free agency a year from now.
Wojnarowski's report doesn't indicate that Jackson's $105MM deal is fully guaranteed, so we'll have to wait to see if that number is buoyed by incentives or whether the agreement includes some non-guaranteed money or injury language. Still, it's a nice payday for a player who has only appeared in 126 total regular season games.
Jackson's new deal puts this year's crop of rookie scale extensions over the $1 billion mark, according to ESPN's Bobby Marks (Twitter link). That figure includes massive, maximum-salary extensions for Luka Doncic, Trae Young, Shai Gilgeous-Alexander, and Michael Porter Jr., along with contracts ranging from $50-90MM for Mikal Bridges, Robert Williams, and Wendell Carter Jr.
The deadline to complete rookie scale extensions is at 5:00pm CT today, so more deals could still get done in the coming hours. We listed all the eligible players in an earlier story.