The Nets have decided that they're not comfortable with guard Kyrie Irving only playing in half the team's games due to his vaccination status. Brooklyn issued a press release today announcing that Irving won't play or practice with the team until he can be a "full participant," with general manager Sean Marks explaining the organization's stance.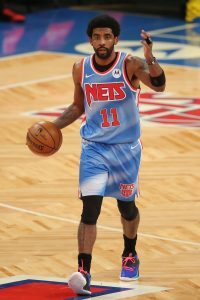 "Kyrie has made a personal choice, and we respect his individual right to choose," Marks said in a statement. "Currently the choice restricts his ability to be a full-time member of the team, and we will not permit any member of our team to participate with part-time availability.
"It is imperative that we continue to build chemistry as a team and remain true to our long-established values of togetherness and sacrifice. Our championship goals for the season have not changed, and to achieve these goals each member of our organization must pull in the same direction. We are excited for the start of the season and look forward to a successful campaign that will make the borough of Brooklyn proud."
Irving is the only player on the Nets who remains unvaccinated against COVID-19. A New York City executive order requires individuals who work in the city to have received at least one dose of a COVID vaccine in order to enter indoor venues such as Barclays Center.
The Nets appeared to catch a break last week when the city deemed the team's practice facility, the HSS Center, a private office building, allowing Irving to practice both at home and on the road. However, there was no wiggle room on his ability to play in games in New York.
Taking into account the Nets' 41 home games and their two games at Madison Square Garden, Irving would be ineligible to play in 43 of 82 regular season contests this season as long as he remains unvaccinated and the city's executive order remains unchanged.
Although Irving would have been eligible to play in Brooklyn's other 39 games, it would have been a very stop-and-start process, especially since the Nets have seven home stands this season of three games or more. The team has decided it would be untenable to have the point guard only available on the road, a decision that involved stars Kevin Durant and James Harden in addition to Marks and team owner Joe Tsai, according to ESPN's Adrian Wojnarowski (link via RealGM).
Now that the Nets have clarified their position, it'll be fascinating to see what comes next. Irving could immediately end the standoff by agreeing to be vaccinated, but if he digs in his heels, the team will have to determine whether it will indefinitely suspend the seven-time All-Star.
Exploring the trade market is another option the Nets could consider, since Irving would be eligible to play in all 82 games in most other NBA cities. However, the 29-year-old isn't expected to have a ton of trade value, given his mercurial personality and his expiring contract.