As expected, veteran big man Pau Gasol announced his retirement as a basketball player today at a press conference in Barcelona.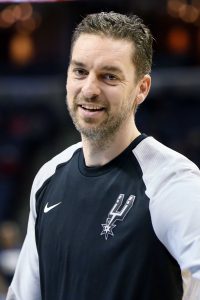 The third overall pick in the 2001 draft, Gasol began his NBA career with Memphis after playing for Barcelona in Spain from 1998-2001. He won the Rookie of the Year award in his first season and ultimately spent 18 years in the NBA with the Grizzlies, Lakers, Bulls, Spurs, and Bucks, averaging an impressive 17.0 PPG, 9.2 RPG, 3.2 APG, and 1.6 BPG in 1,226 regular season games.
Gasol appeared in another 136 playoff contests, posting 15.4 PPG, 9.2 RPG, 3.2 APG, and 1.7 BPG in those games for the Lakers, Spurs, Grizzlies, and Bulls. The 41-year-old is a six-time All-Star who won a pair of championships with the Lakers in 2009 and 2010, as well as three Olympics medals (two silvers and a bronze) for Spain. He also made the All-NBA team four times.
Gasol last appeared in an NBA game in March 2019, when he briefly played for Milwaukee. Since then, he has undergone multiple surgeries to repair stress fractures in the navicular bone in his left foot, which prevented him from making an NBA comeback — he signed with Portland for the 2019/20 season, but never suited up for the team for health reasons.
However, Gasol was able to return to action for Barcelona this past year, winning a Liga ACB title with the team in 2021 after having won championships in 1999 and 2001 with the club. He also played for Spain in the Tokyo Olympics before officially calling it a career. Following his retirement, Gasol appears on track for eventual enshrinement in the Basketball Hall of Fame.
Although Pau has been out of the league for a couple years, 2021/22 might be the first NBA season since 2000/01 that doesn't feature at least one Gasol brother. Pau's younger brother Marc Gasol isn't currently on an NBA roster and is reportedly considering remaining in Spain this season.