12:21pm: The Rockets have officially signed Brooks to a multiyear contract, the team announced today in a press release. The club also confirmed the previously-reported signing of guard Marcus Foster.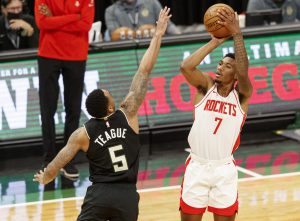 According to Kelly Iko of The Athletic (Twitter link), Brooks' four-year deal can be worth up to $7.2MM. That means it's a minimum-salary contract, which would have a four-year value of $7,201,486. The second and third years are non-guaranteed with July trigger dates, while the fourth year is a team option, says Iko.
---
11:10am: The Rockets are signing guard Armoni Brooks to a four-year contract, according to Adrian Wojnarowski of ESPN (Twitter link). The first-year salary will be guaranteed, with trigger dates for each season after that, Wojnarowski reports.
Brooks, 23, appeared in 20 games for the Rockets in 2020/21, averaging 11.2 PPG, 3.4 RPG, and 1.5 APG with a shooting line of .406/.382/.583 in 26.0 minutes per contest. The former Houston Cougar had previously played in the G League since going undrafted in 2019.
After reaching free agency this offseason, Brooks re-signed with the Rockets on an Exhibit 10 contract, which the team converted to a two-way contract on Wednesday. Houston wouldn't have been able to turn Brooks' one-year Exhibit 10 contract into a four-year deal directly, but moving him to a two-way slot opened the door for the two sides to negotiate a new multiyear contract. The club will use part of its mid-level exception to complete the signing.
The move will create a bit of a roster crunch for the Rockets, since they already had 15 players on guaranteed contracts. John Wall, who technically remains with the team but isn't expected to play in any games, is the most expendable player on the roster, but there hasn't been any indication that a trade or buyout is close. Dante Exum could also be at risk — half of his $5MM cap hit consists of incentives that the club wouldn't have to pay if Exum is cut.
Moving Brooks back to the standard roster will also open up a two-way slot for the Rockets. If former two-way player Tyler Bey clears waivers, perhaps he could return on a new deal. Camp invitee Daishen Nix is also a candidate to have his Exhibit 10 deal converted to a two-way pact.