The Clippers have signed guard Terance Mann to a two-year contract extension worth $22MM, according to Marc Spears of ESPN.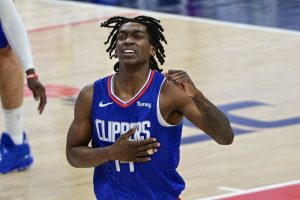 Under the agreement, Mann's $1.9MM option for 2022/23 becomes fully guaranteed and he will make $10.576MM in 2023/24 and $11.423MM in 2024/25, tweets Andrew Greif of The Los Angeles Times. A second-round pick in 2019, Mann will earn $1.782MM this season.
The 24-year-old swingman is coming off a productive second season in L.A., averaging 7.0 points, 3.6 rebounds and 1.6 assists in 67 games. He took a major step forward in the playoffs after Kawhi Leonard was injured, including a 39-point performance in a close-out win over the Jazz in the second round.
"It is with tremendous honor and pride that I sign this extension with the Clippers," Mann said. "The faith and commitment in my development and contribution thus far will provide me the motivation I need as I continue to be a pivotal part of our championship run. I want to thank the front office for this opportunity to remain a part of the Clipper Nation. I would also like to thank my coaches and teammates for believing me and allowing me to grow both on and off the court."
If Mann hadn't signed an extension, the Clippers would've faced a difficult decision on his team option next summer, since exercising it would've put him on track for unrestricted free agency in 2023 — turning it down would've allowed the team to negotiate with him as a restricted free agent, but would've meant he received a significant pay increase one year earlier.
As a result of the extension agreement, L.A. will get Mann at a bargain rate for an extra year and won't have to worry about holding off rival suitors in 2023.