Hoops Rumors is breaking down the 2021 offseason for all 30 NBA teams, revisiting the summer's free agent signings, trades, draft picks, departures, and more. We'll evaluate each team's offseason moves and look ahead to what the 2021/22 season holds for all 30 franchises. Today, we're focusing on the Utah Jazz.
---
Free agent signings:
Note: Exhibit 9 and 10 deals aren't included here.
Trades:
Acquired either the Thunder's, Rockets', Pacers', or Heat's 2027 second-round pick (whichever is least favorable) and cash ($2MM) from the Thunder in exchange for Derrick Favors and the Jazz's 2024 first-round pick (top-10 protected).

Note: The Jazz created a $7,475,379 trade exception in the deal.

Acquired the draft rights to Jared Butler (No. 40) pick, the Grizzlies' 2022 second-round pick, and the Grizzlies' 2026 second-round pick from the Grizzlies in exchange for the draft rights to Santi Aldama (No. 30 pick).
Acquired Eric Paschall from the Warriors in exchange for the Grizzlies' 2026 second-round pick (top-42 protected).
Draft picks:
2-40: Jared Butler

Signed to two-year, minimum-salary contract. Signed using minimum salary exception.
Contract extensions:
Departing players:
Jarrell Brantley
Derrick Favors
Other offseason news:
Promoted general manager Justin Zanik to head of basketball operations.
Executive vice president of basketball operations Dennis Lindsey transitioned to advisory role
Rudy Gay underwent offseason surgery on his right heel and remains sidelined to open the regular season.
Hired Erdem Can and Irv Roland as assistant coaches.
Salary cap situation:
Remained over the cap and below the tax line.
Carrying approximately $153MM in salary.
Used full taxpayer mid-level exception ($5.89MM) to sign Rudy Gay.
Would need to shed salary to use more than taxpayer portion of mid-level exception or any part of bi-annual exception ($3,732,000), since doing either would create a $143MM hard cap.
One traded player exception ($7,475,379) available.
---
The Jazz's offseason:
The 2020/21 season represented Utah's best chance in over a decade to make a serious playoff run. The Jazz posted the league's best regular season record (52-20) and, after dispatching the Grizzlies in the first round of the postseason, they faced a Clippers team that lost its best player – Kawhi Leonard – to a season-ending knee injury in Game 4, with the series tied at two games apiece.
The Jazz, who had a couple banged-up starters in their own right, couldn't take advantage of the golden opportunity, dropping the next two games to the Kawhi-less Clippers to bring their season to an end.
It was a discouraging finish, but a promising season overall for the Jazz, whose top six most-used players remained under contract for 2021/22, providing a solid starting point for this season's roster.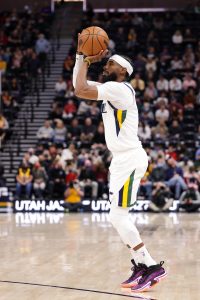 Although Utah didn't have to worry about bringing back stars like Donovan Mitchell and Rudy Gobert, the team was facing a bit of a cap crunch. Re-signing Mike Conley and Georges Niang while retaining all of last year's roster would have put team salary way over the luxury tax line, and while new owner Ryan Smith was willing to become a taxpayer, he wasn't quite prepared to spend like the Warriors or Nets.
In order to keep the payroll in check, the Jazz made some tough decisions. Conley was a crucial part of the club's success last season and had to be re-signed, but Niang was allowed to walk, while Derrick Favors was attached to a protected future first-round pick and sent to Oklahoma City in a salary-dump trade.
The Favors trade put the Jazz in a better financial position to give Conley a three-year deal worth about $68MM, plus incentives. It's a steep price to pay for a point guard who turned 34 in October, but it cost Utah less to lock him up than it cost the Suns and Heat to sign Chris Paul and Kyle Lowry, who are older, or the Bulls to sign Lonzo Ball, who is less accomplished. Conley's third year also isn't fully guaranteed, so the Jazz will have an exit ramp if they need one.
With Conley back and Favors and Niang gone, fortifying the frontcourt was a top priority for the Jazz. The team addressed that need by using the full taxpayer mid-level exception to add forward Rudy Gay, signing center Hassan Whiteside to a minimum-salary contract, and acquiring forward Eric Paschall in a minor trade with Golden State.
Gay is an especially intriguing addition. Like Niang, he has the size to match up against bigger opposing forwards. Unlike Niang, Gay has the ability to create his own shot on offense, giving Utah another weapon alongside Mitchell, Conley, and Bojan Bogdanovic. Gay is recovering from offseason heel surgery and has yet to suit up for the Jazz, but he looks like a nice fit. He'll likely cut into Paschall's minutes once he's ready to play.
In replacing Favors with Whiteside, the Jazz acknowledged that they don't need to spend big on a big man who is essentially just there to back up Gobert. Whiteside isn't the star that his numbers in Miami and Portland might've suggested, but as long as he's willing to accept a modest role and buy into a team-first philosophy, he's perfectly capable of providing 15 or 20 productive minutes per game, especially going up against second-stringers.
The Jazz saved a little more money and acquired some future assets by moving down from No. 30 to No. 40 on draft night. The deal netted Utah a pair of future second-round picks (one was flipped to the Warriors for Paschall) and allowed them to fill out the roster with a minimum-salary player instead of a first-rounder who would earn $2MM as a rookie. And by all accounts, Jared Butler – the prospect the club selected at No. 40 – was the same player Utah was eyeing at No. 30.
Butler, originally viewed as a potential mid first-round pick, slipped down draft boards due to reported concerns about his knees and a heart condition. However, he received full clearance from the NBA's Fitness to Play panel, and the Jazz loved what they saw from the former Baylor star in training camp. He may not get to play much on a veteran-heavy team with title aspirations, but Butler has a good deal of upside for a mid second-rounder.
The other major development in Utah this offseason was the demotion of longtime head of basketball operations Dennis Lindsey, with general manager Justin Zanik taking the reins. The move didn't necessarily represent a significant change in direction for the organization, given that Zanik had worked under Lindsey for several years. But it was certainly looked like a vote of confidence in head coach Quin Snyder, who reportedly had a "long-running disconnect" with Lindsey.
---
The Jazz's season:
I wrote above that last season was Utah's best chance in a long time to make a deep playoff run. But this year's team might be even better. Barring injuries, there's no reason not to expect the Jazz to finish the 2021/22 campaign with one of the NBA's best records, and they'll be a very tough out in the playoffs.
Until the Jazz break through, there will be questions about Mitchell's ability to be a No. 1 option on a championship team, about Gobert's ability to make the sort of impact in the playoffs that he does in the regular season, and about the team's ability to slow down offensive initiators with size, like LeBron James and Paul George. Utah will be motivated to answer all those questions this spring.
---
Salary information from Basketball Insiders and Spotrac was used in the creation of this post.