1:50pm: Portland has released a statement about the investigation into Olshey, acknowledging that law firm O'Melveny & Myers is working with the organization.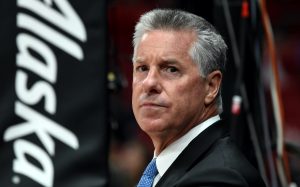 "We are committed to continuing to build an organization that positively impacts our colleagues, communities and the world in which we live in play," the statement reads, in part (Twitter link).
---
6:21am: The Trail Blazers and team owner Jody Allen are opening an investigation into the behavior of president of basketball operations Neil Olshey and the work environment under him, according to Shams Charania and Jason Quick of The Athletic.
The Blazers, Allen, and Olshey all declined to comment to The Athletic on the matter, but Charania and Quick hear that at least one team employee reported potential misconduct.
Chris Haynes of Yahoo Sports has more details, reporting that team employees are alleging staffers have been subjected to "intimidation and profanity-laced tirades, among other bullying tactics" under Olshey. The organization has hired the law firm O'Melveny & Myers to conduct an independent investigation.
According to Haynes, the firm started to interview Blazers front office employees this week. Sources tell Yahoo Sports that multiple staffers have expressed relief about getting an investigation into what they describe as a toxic and hostile work environment that has resulted in mental and physical stress.
One of the issues staff members expressed concerns about was the team's "mishandling" of the aftermath of the death of former video coordinator Zach Cooper in April of 2020, per Haynes.
Olshey, who previously worked in the Clippers' front office, joined the Blazers in 2010 and has been the club's head of basketball operations since 2012. He has faced increased pressure to get Portland over the hump in recent years as the club was eliminated in the first round of the playoffs in four of the last five seasons.
Olshey also faced criticism this offseason when he declined to provide any specific details about the Blazers' investigation into sexual assault allegations levied in 1997 against new head coach Chauncey Billups, calling into question how exhaustively the team actually looked into that incident before hiring Billups.
Once O'Melveny & Myers has completed its probe, the firm will submit its findings to Blazers ownership, with a decision on Olshey's future made shortly thereafter, sources tell Haynes.